Check Hotmail for new email messages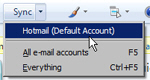 Once you have logged into your Windows Live Hotmail account, you will automatically see the latest emails that have landed either in your Hotmail inbox, or in the junk mail folder. But, like most people, you probably leave the Hotmail window opened in the background, or in another browser tab, while working on something else. Desktop email programs like Microsoft Outlook or Windows Live Mail have a "Send/Receive" or a "Sync" (which stands for "Synchronize") command that allows you to manually check for new emails on the server. This tutorial will show you how to check for new mail from Hotmail inside a web browser (e.g. Internet Explorer). We will explain three ways: the first two tips are useful to know, but more importantly, they explain what happens behind the scenes in each case, and clarifies why the third way is the fastest and easiest way to manually force Windows Live Hotmail to check for new emails on the server.
To check your Hotmail emails from a mail client designed to work with Microsoft's webmail service, learn how to setup Hotmail in Windows Live Mail. Unlike Hotmail as used inside a web browser, a desktop email client can run minimized most of the time, and automatically query Hotmail's mail servers for new emails at customizable time intervals (and will both play a sound and display a new email icon in the taskbar when a automated new mail check results in downloaded emails).
Refreshing Hotmail to check for new emails

A "brute-force" method to check for new Hotmail emails (assuming you are inside the inbox), is to hit F5 on your keyboard: this refreshes the entire page, and requests its latest version from the Hotmail servers. This has the side effect of checking for new emails as well, but is not an ideal solution (especially on slow internet connections, since the whole content gets downloaded again, including images and ads - unless you use Hotmail Plus, in which case no ads are downloaded).
Switch Hotmail folders to check for new emails

Another method to check for new Hotmail emails on the server is to switch from one folder to another: click on the Junk [Mail] folder, for example, and back on the Inbox. This will automatically check for new email messages in the background. This has the drawbacks of requiring two clicks, and manually checking for new emails in both the Junk folder and the Inbox, back-to-back.
Best way to check for new mail in your Hotmail inbox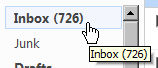 The easiest way, then, to check for new Hotmail emails inside your inbox is to click on the Inbox folder on the left, even if inbox is already selected (i.e. is the folder whose content you are already looking at). While this may seem somewhat counterintuitive, it actually makes sense:

clicking on a Hotmail email folder loads the content of the folder: since the emails stored inside that folder are actually stored on Hotmail's servers, it forces the web browser (Internet Explorer, Firefox...) to request the emails contained inside that folder from the mail server. The side effect is that if you click on a folder already selected, Hotmail will still check the mail server for emails contained inside that folder.
So, if new emails have arrived since the last time you checked your inbox, Hotmail will automatically download any new emails that were on the server, and not yet visible inside your inbox!
Automatically receive new Hotmail emails delivered to another email account
Here is an alternative to having to manually go through your Hotmail inbox whenever you need to check for new mail; this approach can be very practical, by for example forwarding new Hotmail to your work email address.
Note that, if you want to receive a copy of your new Hotmail emails without having to constantly check your Hotmail inbox, you can very easily setup mail forwarding in Hotmail: this allows you to automatically receive a copy of any new email received at your Hotmail account, delivered to the alternate email account of your choice.

Hotmail check mail with third-party solutions: There are also third-party solutions, like gadgets (Windows Vista / Windows 7) or widgets (Mac OS X), that allow you to check Hotmail for new mail messages without even going through an email program - we will examine these solutions in a later tutorial about Hotmail checker programs.
Problems checking Hotmail for new emails
Check Hotmail email problems: if you are experiencing problems when checking Hotmail for new mail, there may be a couple of reasons for this issue.
First, load another website to make sure that the problem is with Hotmail, and not your internet connection. Second, once you've confirmed that, hit the F5 key on your keyboard: this will reload Hotmail, and at the same time check for new emails. If Hotmail displays an error message like the one below, simply type www.hotmail.com in your browser's address bar: this will force Hotmail out of a maddening loop, and re-log you back in Hotmail, and load any new emails that may have been "sitting" on the mail server: