Hotmail Outlook

Note: it is possible to check your Hotmail emails in Microsoft Outlook 2000, Outlook 2002, Outlook 2003, and Outlook 2007 as a regular POP3 email account: since early 2009, the Windows Live team has rolled out support for Hotmail POP3 access: this means that you can now setup Hotmail in Outlook like you would any other regular POP email account. There are some limitations to this approach, which are discussed in Hotmail IMAP settings. These shortcomings can be overcome by downloading a free tool from Microsoft's website, which is called the "Outlook Connector", something we'll cover in the next tutorial; for now, we'll show you how to setup Hotmail in Outlook without POP3 to get started. (In essence, connecting to Hotmail as a POP3 account only lets you access your Hotmail inbox.)
To setup Hotmail in Outlook as a regular POP3 account, please see our Hotmail POP3 settings tutorial. If, however, you do own a copy of Outlook 2003 or Outlook 2007, read on, since you will be able to check your Hotmail emails with what is essentially full IMAP support. There are some minor limitations if you do not subscribe to the Hotmail Plus service, but none that prevent you from checking your Hotmail account from Outlook.
Setup Hotmail in Outlook
To setup Hotmail in Outlook, start by adding a new account: this varies depending on the version of Outlook you are using. In Outlook 2007, go to Tools > Account Settings... This will open the Account Settings window that contains any other email accounts you may have previously setup in Outlook. (In Outlook 2003, go to Tools > E-mail Accounts.)

Click on the New button; as email account type, choose "Microsoft Exchange, POP3, IMAP, or HTTP" and click Next. In Outlook 2007, check the Manually configure server settings or add additional server types checkbox, and click Next. On the next screen, select Internet E-mail (as opposed to Microsoft Exchange), and click on the Next button to fill in your email account information.
As soon as you finish typing your Hotmail email address and hit Tab, Outlook 2007 will automatically-populate the remaining account information for you: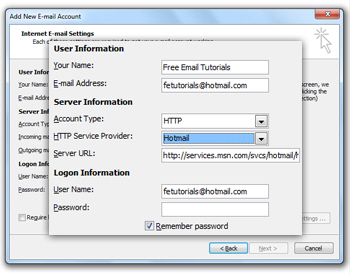 Wrap up your Hotmail account setup in Outlook
This is all it takes to setup Hotmail in Outlook 2007. Notice that you Hotmail account has been allocated a dedicated PST file: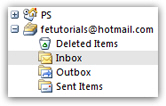 You are now nearly ready to check your Hotmail emails from the comfort of Outlook. Note that you may need to scroll a long way, depending on the number of email folders you have, to find your Hotmail account; it will be automatically called after your Hotmail email address, making it easy to identify, especially if you end up setting up multiple Hotmail accounts in Outlook.
The next step is to download and setup Outlook Connector: checking your Hotmail emails, trying to update your folder listing, etc. will return a connection error until you do. Let's move on to the Outlook Connector.