Delete a folder in Hotmail
Windows Live Hotmail lets you delete any email folder you created, whether it is empty or not. Hotmail's five standard folders are the only exceptions: these folders are essential to the service, and cannot be renamed or deleted. Before you consider deleting one of your Hotmail folders, keep in mind that you can empty a folder without deleting the folder itself, and also rename a folder (in other words keep its content, and only change its name.)
Deleting a Hotmail Folder
Updated for the new Hotmail: the Windows Live team has (for now, hopefully) removed the ability to delete email folders through a right-click menu; the process now takes a bit longer.
If needed, login to your Hotmail account
Once you are inside your inbox, move your mouse above the "Folders" section in the left pane (as shown on the screenshot).
Click on "Manage Folders" from the menu
Windows Live Hotmail will now redirect you to a screen where all your email folders are listed, both the standard folders (Inbox, Junk, Drafts, Sent, and Deleted), as well as any custom folders you have created yourself.
Locate the email folder you want to delete, and select its corresponding checkbox:


Then, click on the "Delete" link at the top; Hotmail will give you a final confirmation message before deleting the folder: "Are you sure you want to delete this folder? Any mail in this folder will be moved to the Deleted items folder."


Click "Cancel" to keep the folder and its email messages, or click "OK" to proceed with the folder deletion.
Again, emails contained in that folder are not permanently deleted: you can go inside the Deleted items folder, and restore them to another folder of your choice.
Tip: notice that the five standard email folders do not have a checkbox next to them; this is because you cannot delete any of these folders: only the custom email folders you have created yourself in your account. If you want to quickly remove all emails a folder contains, consider the alternative, which is to manually empty a folder.
Deleting an email folder in the old Hotmail
The new Hotmail no longer lets you delete email folders with a simple right-click: hopefully, the extreme convenience of this method will make its comeback.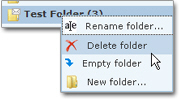 If you have decided to do without one of your Hotmail folders, right-click on the folder, and choose Delete folder from the context menu. Note that you do not need to be in a folder to be able to delete it.

If the Delete folder menu item is not visible, you probably right-clicked on a folder that Hotmail does not allow you to delete (like one of the top five folders.)


Before proceeding, Windows Live Hotmail will ask you for confirmation that you in fact do want to delete the folder. If you confirm, all emails are moved to the Deleted folder. The folder itself is permanently gone, but the emails it contained can still be restored from the Deleted folder.