General Maintenance for Mozilla Thunderbird
As soon as emails are downloaded on your computer, your Thunderbird Profile's size increases. Especially as time goes by, there are a few good-practice actions to take to ensure that Thunderbird runs at its best.
Maintaining Thunderbird Up-To-Date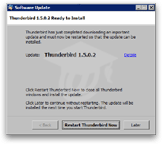 The best maintenance you can start with is ensuring that you are always running the latest version of Thunderbird.

Although you can turn off automatic checks for updates under Advanced options, we strongly recommend against it. By default, Thunderbird will check for, download, and install any updates it finds.

(For more information, please see the Thunderbird Updates tutorial.)
Tips For Conserving Disk Space in Thunderbird

If you are working with limited storage space, here are a few tips that will help you keep your profile and mail files to a minimum size.
Leave Messages on Server
The easiest way to conserve space is to leave messages on the server in the first place, (if you need to conserve a copy of these emails), so that you can delete copies from your computer after you read the emails.
To leave your emails on the server, and manage if and when they are to be automatically deleted, please see the Server Settings section of our Server Settings tutorial.
Empty the Trash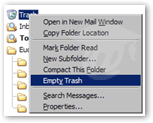 Emails you deleted are not really deleted; they remain in the Trash folder, and still use disk space on your computer. To get rid of these emails, you can either right-click on the trash and choose Empty Trash, or go to File > Empty Trash.

This time, deleted emails are gone for good, and the Trash folder will be completely empty.
Thunderbird can automatically empty the Trash when exiting. To enable this option, go to Tools > Account Settings, choose the email account(s), select Server Settings, and check the Empty Trash on Exit checkbox.
Emails are not completely deleted until you empty the Trash and compact your folders (see below).
Compact Your Folders
Thunderbird allows you to compress your folders so that they use less space on your hard drive: Thunderbird calls is Compacting Your Folders. To compact your folders, go to File > Compact Folders. Unless you have enormous amounts of emails, or have not compacted your folders in a long time, the entire process should take but a few seconds.

As explained in the Advanced Options tutorial, Thunderbird can automatically compact folders when the amount of emails locally stored (i.e. on your computer) exceeds a certain size.
Use Email Folders' Retention Policies

Email Folders' behavior can be customized in Thunderbird, so that emails can be automatically deleted regardless of server or email account settings, or rules such as Always delete read messages.

To view or change individual folders' settings, right-click on the folder, choose Properties, and navigate to the Retention Policy tab.