Mozilla Thunderbird Tutorial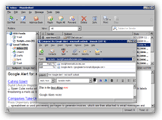 Mozilla Thunderbird is an email program ("email client") distributed by the Mozilla Corporation, commercial arm of the Mozilla Foundation.

"Open-source" means that the source code behind the program is freely available over the web, so that programmers around the world can contribute to the development of Thunderbird. Each new release of Thunderbird is a community effort. and everyone is welcomed to participate in further development.
Open-source also means that Thunderbird is free, in the best sense of the word: no nagging advertising screens, ad-supported features, or registration requests. It's just free.
Mozilla Thunderbird System Requirements
Before downloading Thunderbird to your machine, you must make sure that you meet the minimal "System Requirements" (the minimal software/hardware combination needed to run Thunderbird). Thunderbird is not a resource intensive application, and works well even on older configuration. As a result, it will most likely run on your computer.

In addition to running on nearly any version of Windows (98/98SE/ME/NT 4/2000 or XP), Thunderbird will run on Linux and Mac OS X 10.2 (Intel/PowerPC).

Find the detailed Thunderbird system requirements at Mozilla's website

Download Thunderbird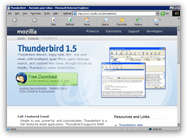 To obtain your copy of Mozilla Thunderbird, go to:
Mozilla.com/Thunderbird


… and download the latest copy of Thunderbird

Thunderbird is available from Mozilla.com in many languages for Windows, Macintosh or Linux. Versions of Thunderbird other than English-Windows are at: Mozilla.com/Thunderbird/all.html

After your download has completed, you are ready to install Thunderbird. For more detailed instructions, please see our Download Thunderbird tutorial (for Windows).