Email account server settings in Mozilla Thunderbird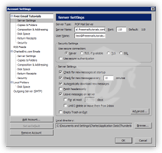 Thunderbird's Server Settings allow to tweak your email account's settings after the initial setup.

The top part allows you to change the incoming mail server. Even though it reads "Server Name", this is not where you enter your email account's friendly nickname; most often, the incoming mail server is of the form mail.emailProvider.com.

You can also edit your email account user name after the fact, or change to port number (110 is the default, used by the vast majority of email providers).
Security Settings

Thunderbird email accounts' Security Settings allow you to specify the authentication process for this email account. Remember that Thunderbird stores SMTP server (outgoing email server) information separately, so that multiple email accounts can all use the same outgoing mail server.
If authentication requirements are different for one of these email accounts, this is where you would override the global options of the SMTP server for this particular email account.
Server Settings
Thunderbird's email account Server Settings allow you to define how Thunderbird interacts with the mail server: if it checks for new emails on startup, how often you want to check that email account for new emails, if messages should be automatically downloaded, and if headers only should be downloaded (see Fetch Headers Only, below).
You can also determine from here if and when Thunderbird should delete emails from the mail server. You can leave them for the server "forever", delete them after a specifiable amount of days, and/or until you delete them from your inbox.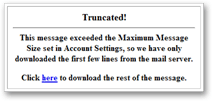 Thunderbird can optionally download the email information excluding the content of the email. You would then see the new emails as usual, but the download of the content of the body's content download will only be downloaded on request. Left, the content of your emails' body if Fetch headers only is checked.
Empty trash on Exit

Thunderbird can automatically delete emails from the Trash folder when it exits, but remember that emails are only invisible at that point: to permanently erase them, use File > Compact Folders.