Thunderbird Updates

Maintaining an up-to-date version of Thunderbird is crucial. Fortunately, the update process is not only smooth, but happens automatically (by default), from simple stability updates, to critical security updates. Updates are tested before being released, so the chances of an update creating havoc are minimal.
Luckily, you do not have to re-download Thunderbird to have the latest version, updates detection and installation process are fully integrated in the application.
The bottom line is that you only can benefit from ensuring that you are running the latest version of Thunderbird. Besides, updates are typically very small downloads, and quick to install, so that the complete update usually doesn't take more than a couple minutes.
To quickly see which version of Thunderbird you are running, go to Help > About Mozilla Thunderbird.

The About Thunderbird dialog will open, and indicate major and minor versions, (like 1.5.0.2).
Manually Checking for updates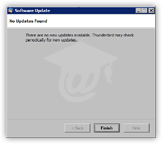 You can always check manually if you have the latest version of Thunderbird by going to Help > Check for Updates.

The Software Update window will open, and request information from Mozilla's server. If your copy of Thunderbird is up-to-date, you will receive a There are no new updates available confirmation.

Otherwise, Thunderbird will start downloading and installing updates. After an update is installed, Thunderbird will restart, but leave you the option to do it later. Our recommendation: do it asap.
Downloading and Installing Updates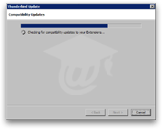 Whether you check manually for updates, or have Thunderbird set to automatically check for them (default, recommended), the Thunderbird update window will open if updates are available for download.

Thunderbird will then download and install the updates. It will also check for compatibility with themes and extensions you may have, and give you a notice if any of theme isn't compatible.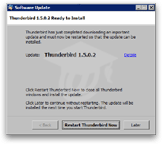 There is no need to uninstall incompatible themes or extensions. You will simply not be able to use them until their creator updates them.

Once updates have been installed, Thunderbird will notify you, and give you the option to restart it right away, or later. We recommend that you restart it right away.

Who knows? Restarting it right away may have saved you from being the target of a critical security exploit against which only this latest update protects you.
Update Options in Thunderbird
Thunderbird's update settings can be configured by going to Tools > Options, selecting Advanced, and clicking the Update tab.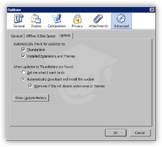 By default, Thunderbird's update settings are the most secure: periodic check-for-updates will be done automatically, for both the Thunderbird email client, and any extensions or themes you may have installed.

When updates are found, Thunderbird will automatically download and install them, and warn you if any theme or extension is not compatible with the latest version of Thunderbird.

We strongly recommend that you leave Thunderbird's settings for updates the way they are by default.
Thunderbird's Update History

At any point, you can look at Thunderbird's update history by going to Tools > Options, and choosing the Update tab under Advanced options.

The Update History dialog will open and list all updates downloaded and installed since Thunderbird was installed on your computer.
Thunderbird Updates' Release Notes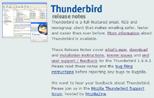 If you are curious about the changes made in Thunderbird's latest version, simply go to Help > Release Notes. This will bring you to the Mozilla.com website, on the page that details improvements made, security fixes (if any), and Known Issues for the version of Thunderbird you are running. Known Issues are secondary effects that were experienced by some users, and that have been reported to the Mozilla developers team.