Gmail Sign out (Completely logout)
The previous tutorials explained Gmail Sign in in details, and how Gmail login worked behind the scenes for your security: in this tutorial, you will learn about Gmail Sign out, or the process that instructs Google to exit your emails and other accounts (remember, the credentials you use for Gmail are a single-sign-in solution for all other Google services you may be using: if your sign out of one, you typically logout of all of them in that web browser). Finally, we'll show you how to clear traces of your login information after you have successfully signed out of your account.
Manually sign out of your Gmail account
Here are the typical scenarios in which you will need to logout:
Confirm your Gmail Logout status
Clicking on the "Sign out" link should be the end of it; but, as a security measure, confirm your logout status: type www.gmail.com in your browser's address bar and hit Enter (or Return on a Mac), and see if you still get the blank Sign in form (you should, and if you do, this confirms that you have been signed out).
Depending on how concerned you are about erasing traces of your logging into Gmail from this particular computer and/or web browser, you can go a step further by deleting the "autocomplete entry" that remains behind you in most browsers: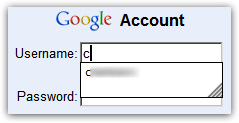 Note that this is not a problem with Google or Gmail, it is actually a nice feature offered by several web browsers, which in cases like this can work against you. You are in fact signed out of your Gmail account, but the autocomplete data allows the next user to "guess" your user name / email address:
- How to clear your autocomplete data in Internet Explorer
- How to clear your autocomplete data in Mozilla Firefox
Tip: keep in mind that your Gmail user name / email address will be added again to your web browser's autocomplete database the next time you login to check your emails, unless you disable the feature altogether.