Delete autocomplete data from Firefox + Disable Autocomplete logins
Mozilla Firefox will by default remember the values you type inside form fields, including credentials (user name and password) for login forms on web pages. In this tutorial, we will show you how to delete an autocomplete entry in Firefox, and how to quickly delete multiple autocomplete entries. You will also learn how to disable autocomplete altogether for login forms (Firefox's "Saved Passwords" feature to remember your credentials on websites).
Delete autocomplete entries in Firefox
The autocomplete menu appears in two cases: either when you start typing a value or user name, or when you double-click inside a text field that Firefox knows contains an autocomplete value (as shown on the screenshot).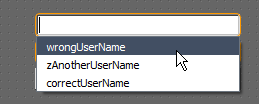 Using the Up or Down keys on your keyboard, or moving your mouse cursor above an autocomplete entry "selects" it. To delete this entry and permanently remove it from Firefox's internal autocomplete database, hit Delete (Del), and the entry is gone. (The orange borders surrounding the form fields on the screenshot come from the "Secure Login" Firefox extension, to indicate login forms that can be auto-completed with a keyboard shortcut.)
Tip: To remove multiple autocomplete entries from Firefox, keep your mouse cursor above the first or second, and repeatedly hit the Delete key.
If you are using the Secure Login extension, and have more than one login remembered for this particular form, you can visually confirm that the user name has been deleted from your autocomplete history, by pressing the keyboard shortcut (configurable) that auto-logs you in with forms. (The "wrong" user name is gone, no longer suggested as autocomplete.)



Delete all your autocomplete history in Firefox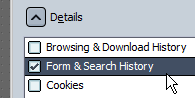 To completely remove your autocomplete from Firefox, press Ctrl+Shift+Del on Windows or Linux / Command+Shift+Del on Mac. In the "Clear Recent History" dialog that opened, deselect everything but the "Form & Search History" checkbox, and click the Clear Now button. All "regular" form fields have "forgotten" their autocomplete history. The next section covers disabling autocomplete for passwords.
Disable Firefox autocomplete for logins (user name and password)
To help you, Firefox will offer to remember your login information on websites; to disable autocomplete for user names, to Tools > Options (or Firefox > Preferences on Mac), and select the "Security" tab. Then, uncheck the "Remember passwords for sites" checkbox:



To erase all passwords Firefox remembered so far, click on the Saved Passwords button, and click on Remove All in the "Saved Passwords" dialog.
Click OK to apply your new settings; from now on, Firefox will no longer offer to save user names and passwords in login forms.