What Is Shareware?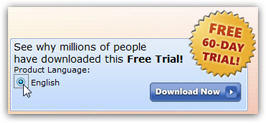 What is shareware? — Shareware is a rather loose term used to define software that is free to try, but must be purchase after a certain amount of time or uses. A typical case of shareware is Microsoft Outlook, which can be downloaded as fully functional "trial" from Microsoft's website, and be used for free for up to 60 days. This gives you ample time to try using it before deciding whether you want to purchase the program or not.

That kind of software is generally distributed online, through independent software vendors' websites ("ISV"), or through large download-dedicated sites like CNET's "Download.com". But often, shareware can come bundled on a new computer, or be part of a free CD of trial applications (which cuts costs down amongst multiple developers).
Note: the "opposite" of shareware is freeware - downloadable desktop applications that are free for life. Freeware is often used as a strategy to attract new users: provide, for free, a feature-limited version of an application, which "hooks in" many prospects and shows them how useful the full application would be for them.
Shareware email programs
Here are a few email programs you can try for free, but which must be purchased after a period of 30 to 60 days if you want to retain the core functionality and/or keep using that application:
Microsoft Outlook - the personal information manager part of Microsoft Office can be downloaded as part of a larger suite. When sold individually, Outlook costs about $100. Learn more about Outlook 2003 or Outlook 2007 (Outlook 2010 is the latest version). Side info: since 2011, Outlook has return to the Mac, where the email program part of Office used to be called "Entourage".
Sparrow - A relative newcomer in the world of shareware email clients, Sparrow (for Mac OS X or iPhone) is quickly making inroads with its minimalist (yet innovative) approach to email management. (Visit their official website.)
The Bat! - made by the company RITLabs, it is a very advanced email program that comes in a few flavors: currently (2012), basic pricing is as follows: $45 for the base professional version, $35 for the "Home" edition, and that same version at $28 for students and non-profit organizations (prices in USD).
WordPerfect Mail - This great email program is unfortunately no longer maintained by Corel. It used to be sold as a standalone product for ~$50, and later bundled for free in the WordPerfect Office productivity suite. If you can get a CD of version 1 or 2 (no major difference) on eBay, it is a very nice, alternative email client for Windows (we've used it on XP, Vista, and Windows 7 - no issues with either operating system).
Like WP Mail, shareware products like "PocoMail" and "Courier" are now defunct - you may be able to get them for free, but without upgrades in sight, or serious support.
Tip: some shareware programs no longer supported by their company can eventually become "freeware" - the downside is that you'll end up using a program no longer maintained or updated, and generally without any kind of support (though online forums and sites like Free Email Tutorials keep documentation freely available). Such an example is the Eudora email client, by Qualcomm, now completely free!
With so many email applications given away for free, creating a "for-profit" program in this segment is quite challenging, and explains in part why we don't see as many competitors as, say, the text editors market - if you find a shareware email program you like, make sure to purchase your copy to encourage developers and, to an extent, ensure that you invest in an application that has a future!
Official Association of Shareware Creators
Official link to the Association of Software Professionals' website: ASP-Shareware.org

, and their mission statement: " Since 1987, the ASP has been dedicated to the advancement of shareware, also known as try-before-you-buy software, as an alternative to conventional retail software. Today the ASP is a vibrant organization with hundreds of members around the world working together to improve their businesses and making it easier for computer users to find quality software at reasonable prices."