Corel WordPerfect Mail Tutorial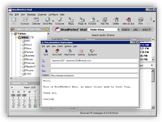 WordPerfect Mail is a relatively recent addition to Corel Corporation's line of office productivity suite, (which notably includes the Quattro Pro spreadsheet application and the WordPerfect word processor.)

Since the first version, WordPerfect Mail is a noteworthy contender to other email clients. In addition to standard email capabilities, it includes a very decent calendar, and an RSS reader. From using it, one can't help but notice that WordPerfect Mail was designed with the user in mind.
WordPerfect Mail has a beautifully designed interface -very different from that of other programs of the WordPerfect Suite, and is surprisingly user-friendly. WordPerfect Mail would actually be an excellent choice as someone's first email client.
WordPerfect Mail Fact Sheet
Made By
Corel Corporation
Retail Price
Free to try (30 days)
US $69 (List Price)
Software Type
Shareware (What is Shareware?)
Product Home Page
Corel.com/Mail
Focus on the productivity suite, and the demise of WordPerfect Mail
Unfortunately, after releasing the first version of WordPerfect Mail, Corel has left this nice, alternative email program without any updates for a long time, stuck at version 1. The updated version (2.0.4) is the final release of this email client.
Instead of pursuing the tough "shareware" email client market, which includes several worthy competitors offered absolutely free (like Apple Mail bundled in Mac OS X, Outlook Express or Windows Mail bundled with Windows, and freely downloadable applications like Mozilla Thunderbird or Windows Live Mail), Corel has instead started "offering" Thunderbird bundled with its productivity suite - from the official product description:



Side note: Mozilla Thunderbird is a free, "open-source" email program you can download from MozillaMessaging.com - in other words, you do not need to purchase a product from Corel to get your own copy of it. (What is freeware ?)
Buying a piece of email history
If you are interested in testing out a simple and different email application, try to get your hands on one of the last copies of WordPerfect Mail through eBay or Amazon third-party sellers. While never reaching the popularity of the now defunct Eudora email program, Corel's Mail application has had its fans during its short life. WordPerfect Mail was actually a rebranded version of the "Bloomba" email program created by a company called "Stata Laboratories", which was purchased by Yahoo.
Although you will be able to install WordPerfect Mail on your Windows 7 PC, the activation process may not work, and calling their customer service number for North America (1-800-772-6735) will not help, since their email program is no longer officially supported :(
Tip: if you are using the latest (or a recent) version of WordPerfect Office, you can familiarize yourself with its bundled email client by reading our Thunderbird Tutorial.