The Bat! Tutorial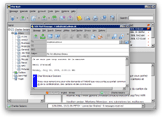 The Bat (or "TheBat!") is an powerful email application created by RITLabs. The Bat differentiates itself from many other email programs by the depth of its features. While it remains user-friendly, TheBat! is highly customizable and offers more email-management tools than any other email client we have come across.

The Bat also comes with an original email-chat program, a scheduler, as well as "SmartBat", an on-the-fly to-do list application.
Our TheBat! Tutorial is still in the works, but stay tuned for more.