Delete a folder in Yahoo Mail

The previous tutorials explained how to create a folder in Yahoo Mail, and how to rename folders. In this tutorial, we will show you how to permanently remove a folder from your Yahoo Mail account by deleting it. Important: before you proceed and delete a folder, know that this action cannot be undone. Since, as you'll see, Yahoo prevents you from deleting a folder and its content with a single click, you may still be able to recover the deleted emails, as long as they are still in your Yahoo Mail account's Trash folder (and then re-create a folder using the same name as the folder you just deleted). It may seem like Yahoo makes the process difficult, but this feature probably saved thousands of email users from themselves by preventing irreparable folder deletions!
How to delete an email folder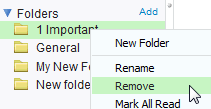 To delete a folder in Yahoo Mail, all you need to do is right-click on the folder, and choose Remove from the context menu that appeared. In this case, Yahoo is using the word Remove as synonymous with "Delete".

But note that you will get a chance to stop the Remove command before your folder is actually deleted. You will get one of two possible messages, depending on whether or not the folder you want to delete contains emails:



Yahoo Mail will display the message pictured above when you are trying to delete, or remove, an empty folder: "Are you sure you want to permanently delete the empty folder [your-folder-name]". But also notice that the Cancel button is preselected by default, which means that if you then hit Enter or the Spacebar, the folder will not be deleted, and the Remove action will be canceled without further consequences (this is Yahoo Mail protecting you from yourself!)
Click OK to delete the folder, and Yahoo Mail removes it instantly from your folder listing. Note that, unlike emails, a deleted folder will not be moved to the Trash folder: it will completely disappear from your account, for good.
Delete a non-empty folder in Yahoo Mail
In the second case, you will try to delete a Yahoo Mail folder that does currently contain emails; if this is the case, Yahoo will display the following error message: "Only empty folders can be deleted. Please delete all emails in this folder first".



This error message is, here too, Yahoo Mail protecting you from an accidental (and catastrophic!) mistake. By disallowing the deletion of folders which still contain emails, Yahoo is in effect forcing you to first look at the emails it contains, and delete them yourself manually, before you are even able to delete a folder. Once you do empty the folder from all the emails it contains, you will receive the same confirmation message discussed above, with the Cancel button selected by default to prevent folders deleted by accident.
Empty all emails from a folder to delete it

There are only two folders that Yahoo Mail lets you empty very quickly: these are the Spam folder and the Trash folder. For all other folders, the process of emptying, or email deletion, has to be done manually. Once you have deleted down to the last email contained in the folder in question, start over by right-clicking on the folder, and choosing Remove from the menu.
Click OK to the final confirmation message, and Yahoo will permanently delete the folder.