Check emails in Yahoo, My Yahoo, or Yahoo Mail

Once you have created your Yahoo Mail account, you will want to regularly check for new emails; short of setting up Yahoo Mail in an email program, and using its new mail notification system, this tutorial will explain how to check Yahoo or Yahoo Mail for new emails. We will show you three ways to check for new emails: from the main Yahoo homepage, from My Yahoo (custom, free homepage service), and from Yahoo Mail itself. We'll also show you how to customize the Yahoo Mail Preview tool in My Yahoo.
This tutorial assumes that you are logged in to your Yahoo account, which can be done by making Yahoo remember you in the sign in form. For more information, please see our Yahoo Mail login and sign in settings tutorial.
Check for new emails the Yahoo homepage
The Yahoo homepage displays ads and current news, and a sidebar on the left that gives you quick access to many Yahoo services (and others, like Facebook), including Yahoo Mail. The next section of this tutorial will show you how to preview and check for new emails from My Yahoo! - we are here on the main homepage (www.Yahoo.com). Your Yahoo! Mail link should be displayed near the top of the list, below "View Yahoo! Sites". Click if you want to go to Yahoo Mail - otherwise, move your mouse over to reveal the "Open QuickView" button:



As soon as you click the QuickView button, Yahoo displays a preview of the latest emails in your inbox, all this without having to open Yahoo Mail itself - to hide the new mail preview, simply click on the collapse button, as shown on the screenshot:



This is the quickest way to check for emails from the Yahoo homepage!
Check for new emails from My Yahoo
If you are using the My Yahoo homepage service, you will be able to do even better, and actually have a new mail preview right inside the page, no click required!

If needed, go to my.yahoo.com (and log in).

Then, click on the Add Content button.


On the right, click on the My Yahoo! Essentials link, which will load all the Yahoo-related add-ons you can use in My Yahoo. Then, locate and click on the Yahoo! Mail Preview to add this mini application, and click "I'm Done":



Your latest Yahoo emails are now showing in the top left rectangle (which can be moved elsewhere). Here is the default preview of new emails in My Yahoo: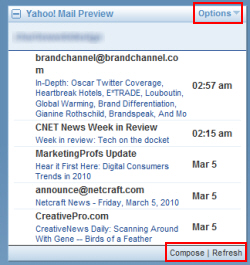 Customize the Yahoo Mail Preview application

By default, the Yahoo Mail Preview application only shows you the 5 most recent emails from your inbox, but this can be changed: click on the Options menu, and choose Settings; then, select the number of new emails My Yahoo should show (5, 10, 15, or 20), and click Save. When you move your mouse above one of the emails, a more detailed preview pops up, and lets you Read the complete email in a new window, or Reply to the email in question. Finally, notice that the bottom right corner of the Yahoo Mail Preview block contains a Compose button (to create new emails directly from My Yahoo), and a Refresh button, to check and load new emails from the server.
Check for new emails from within Yahoo Mail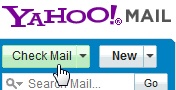 Finally, if you are already inside Yahoo Mail, you do not need to refresh the entire web page to check for new mail on the server (this will reload your inbox and download any new emails, but uselessly takes much longer than the alternative). Simply click on the Check Mail button near the top left corner of the window. This immediately brings you to your Yahoo Mail inbox (if you were in another email folder), and downloads any new email messages from the server.
If you have setup multiple email accounts inside Yahoo Mail, you can use the dropdown arrow of the Check Mail button to selectively check emails from a single email account.
Check your Yahoo emails inside an email program
As mentioned earlier in this tutorial, you can of course use an email program, which automatically checks for new mail periodically, by setting up your Yahoo Mail account inside your favorite email client; here are some tutorials to do just that:

• Setup Yahoo! Mail in Windows Live Mail
• Setup Yahoo! Mail in Outlook Express
• Setup Yahoo! Mail in Thunderbird
• Setup Yahoo! Mail in Windows Mail
• Setup Yahoo! Mail in Microsoft Outlook