Send Hotmail messages from different email accounts
The Windows Live email service lets you add other email addresses to your Hotmail account: this allows you to use your Hotmail account and send from that account emails that will appear as coming from any other email account of your choice. This tutorial explains how to switch email account when you are composing and sending emails from Hotmail - we will assume that you have already added another email address in your Hotmail account.
Send emails from default Hotmail account or another email address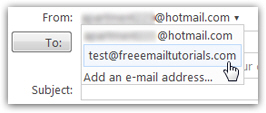 Additional email addresses you setup in your Hotmail account are fully integrated: you do not need to follow any special procedure based on which email address you want to send a message from. You can tell from the screenshot that the additional email addresses do not need to be a Hotmail account, they can be any account you want, including Gmail, Yahoo Mail, or AOL Mail.
Follow these steps to send emails from another email account, using Hotmail:
If needed, first login to your Hotmail account
From any email screen, click on the New button you use to compose a new email
You can also use this feature when you Reply or Forward a message you received
The email regular editor will open
Above the To field, where you enter the email addresses of recipients, notice that the From email address is actually a dropdown menu: click on it.
Hotmail will display the list of all email accounts you have added: just click on the email address you want to send this particular message from, and you are done!
As soon as you click on the Send button, Windows Live Hotmail will distribute this email to all its recipients, as though it had been sent from the email account you picked.
Tip: If someone were to look at the headers of your email, they could tell that it was sent from Hotmail, but their reply would still go to the other email account of your choice.
Receive replies to your other email account in Hotmail
Please read the following tutorial: receive emails from other email accounts inside Hotmail. This feature allows you to receive inside your Hotmail account emails sent to another email address of yours, and means that Hotmail can become your one-stop solution for email sending and receiving!