Hotmail Attachment Size Limit
As we discussed in the previous tutorial, Windows Live Hotmail lets you attach a file to your emails, and even attach multiple files to a single limit. While your Hotmail inbox size limit is gigantic, the maximum file size you are allowed to email as attachment remains relatively small; this tutorial discusses the various options you have when having problems attaching files to emails sent from your Hotmail account.
Looking to send file attachments with Hotmail? Please see instead our tutorial on emailing file attachments with Windows Live Hotmail.
Maximum attachment size for regular Hotmail accounts
The free, ad-supported Hotmail email account allows you to email file attachments for a maximum total of 10 Mb (10 Megabytes). This maximum attachment size corresponds to about 4 high-resolution pictures. In most cases, the 10Mb file attachment limit should be plenty, especially since file attachments that are too big to all fit inside a single email can be sent attached to another email. Hotmail only limits the maximum file size for attachments Per Email (though you do have a very high limit on the amount of data you can send per day from your Hotmail account).
File attachments size limit for Hotmail Plus users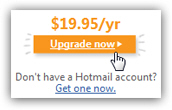 Hotmail Plus, the version of Windows Live Mail that does not display ads, costs about US$20 per year: aside from no-ads and more storage, Hotmail Plus also doubles the maximum file attachment size to 20Mb (20 Megabytes). This, again, is the maximum file size for attachments to a single emails, and you can always send a second, third, or fourth email if your attachments are too large to all fit in a single email.
How to increase Hotmail's file attachments size limit?
The first, simplest way to increase your limit on file attachment size is to upgrade from the regular, free Hotmail, to Hotmail Plus (for ~$20 per year). This will only be a viable option if upgrading your size limit from 10Mb to 20Mb solves your problem.
Update: using SkyDrive to share pictures and documents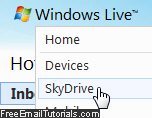 Hotmail now lets you store pictures and other files online for free, using the "SkyDrive" storage service; this is also how large attachments can be shared - instead of attaching these files to email messages, a link to the online file will be sent to the recipient!

To upload email attachment files from Hotmail, just move your cursor above the "Windows Live" logo, and select "SkyDrive" from the dropdown menu; once the next page has loaded, just click on "Add Files" to upload a file from your computer.
Note that the SkyDrive online storage service is available to all Hotmail users, subscribing to Hotmail Plus or not!
Separately upload you file attachments
Another way is to find a free file upload service, upload your large attachments using this service, and only including in Hotmail the link to the uploaded file, as opposed to attaching the files to the email itself. In fact, this approach has other benefits, including no large file attachments to download for your recipients who may be using a slow internet connection, but also a nice way to avoid attached file issues for email recipients whose corporate policy forbids receiving large attachments, or receiving any email attachment at all.
Use a third party webmail service for attachments, alongside Hotmail for email
Yet a third way to work around Hotmail's maximum attachment size limit is to use another webmail service to email files, while keeping on using Hotmail for email: at the time of this writing, both popular webmail services Yahoo! Mail and Gmail each offer a maximum attachment size of 25Mb (25 Megabytes), more than twice the size limit offered by the paid version of Hotmail, Hotmail Plus.
Bottom line on file attachments with Hotmail
For convenience's sake though, the easiest solution would be to upgrade to Hotmail Plus and get a 20Mb file attachment size limit, or use a free file upload service and link to your files instead of attaching them to email. We have no recommendation on upload service: make sure to remember that sensitive file attachments are probably not ideal candidates for a public file upload site. In fact, since Hotmail emails are not encrypted, you should avoid emailing sensitive attachments altogether (except perhaps if you use a software like WinZip to encrypt file attachments inside a ZIP archive - how to create a zip file in Windows 7).