Change the picture of your Hotmail profile

By default, your Hotmail account displays a neutral avatar (see screenshot) for your Windows Live profile until you choose a picture. Your profile picture is displayed not only in Hotmail, but also in various other Windows Live online services. Change your Hotmail picture, and this will affect all the Windows Live services you use. But, as we'll show you in this tutorial, you can select which people can view your Hotmail picture, to guarantee your privacy. This tutorial will explain how to change Hotmail picture, which considerations to bear in mind when choosing a picture for your profile, and how to control and limit the visibility of your profile picture by other Hotmail users (and/or other Windows Live services' users).
Change Hotmail picture

To change the Hotmail picture of your Windows Live account profile, locate your profile image (neutral avatar), generally displayed in the top right corner of any Hotmail window. If the current page shows multiple profile pictures, find the one flanked by a downward pointing arrow: this indicates the presence of a dropdown menu.

Click on your profile menu, and choose Change picture (careful not to accidentally hit the Sign out link). Hotmail will redirect you to the "Your picture" screen ("Use this picture to show who you are on Windows Live"). From there, you are able to add and change profile picture (by uploading it), create or edit your privacy settings, etc.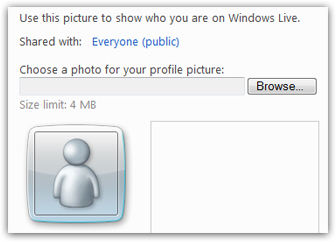 Configure your Hotmail picture sharing settings
If you do not want or need to restrict the visibility of your profile picture, you can directly skip to the next section: upload your Hotmail profile picture.

The first option to configure (or re-configure) when changing your Hotmail picture, (used in Microsoft's entire Windows Live ecosystem), is to decide who should be able to see it (as opposed to seeing a neutral avatar instead). By default, Hotmail shares this picture with everyone: notice, next to Shared with, a "Everyone (public)" link. Click on it to restrict the visibility or your profile picture.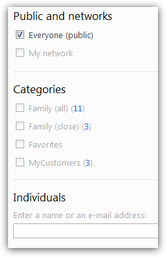 Hotmail will load the "Select who can view your picture" screen, which is divided in three sections: under Public and networks, you can choose to let Everyone (default) see your picture, or people in your network.

Under Categories, Hotmail displays all the contact categories (distribution lists) you have created: to be able to selectively share your profile picture, uncheck "Everyone (public)", and check the checkboxes corresponding to those with whom you want to share your picture. You can select to share your Hotmail profile picture with one or all your contact groups.

Finally, under Individuals, Hotmail lets you restrict sharing your picture with just select contacts. If you choose this option, click on the Select from your contact list link to view and pick contacts:



Once you are done, click Save to return to the previous screen and upload your picture.
Upload your Hotmail profile picture
Hotmail lets you upload a profile picture of up to 4 Mb (megabytes), which means that most high resolution photos from a digital camera will be small enough.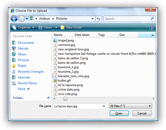 Click on the Browse button, and a file picker will open, allowing you to choose an image from your hard drive; navigate and pick the image you want to use, and click on the Open button (or double-click on the picture you wanted).

Hotmail will automatically upload your picture: depending on the size of the picture you chose, and the speed or your internet connection, this make take up to a couple of minutes. Then, Hotmail displays a preview of your profile picture, in context: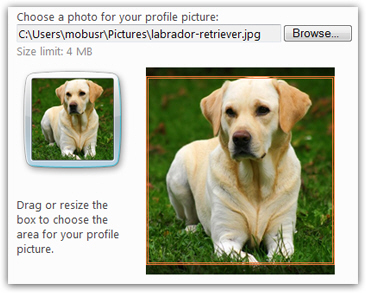 If the picture is not completely square, Hotmail lets you "crop" the viewable area of the image - simply drag the borders visible on the preview picture on the right.
Now that you have preview your profile picture and configured its sharing settings, click Save. This immediately changes your Hotmail picture, as well as the picture displayed for your profile in all other relevant Windows Live services.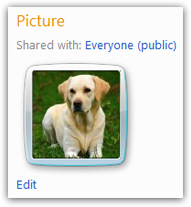 Hotmail redirects you to your profile page, where you see your new picture (notice that, from there, you can also edit the sharing settings, and the picture itself). In the second screenshot, notice that Hotmail now displays the photo we just uploaded inside the sign out link, in the top right corner of the screen.

And this is all it takes to change Hotmail picture! if you decide to change your picture weekly, monthly, or every season, no problem: just go back to the top right corner menu, click on it and choose Change picture, and follow the same steps, with the upload of another picture. (Hotmail replaces the old picture without keeping the old picture as archive: make sure you have a backup copy of it if you intend on using it in the future.)
Remove your Hotmail profile picture
If you decide to do without profile picture altogether, simply go to the top right menu and choose Change picture; then, click on the Remove link displayed right below your current Hotmail picture, and you will be back with the neutral avatar icon for your Windows Live profile (after Hotmail gives you one last chance to change your mind!)