Email a link from Firefox (Send URL in message)

In this tutorial, we will show you different ways to email information directly from Mozilla's Firefox web browser; we will also examine a couple Firefox extensions that make emailing from Firefox even more productive. No Firefox extension is necessary for this tutorial, all the functionality web describe is built right into Firefox.
Send an Email Link from Firefox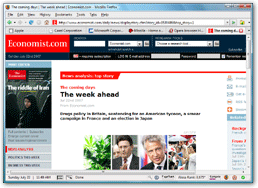 Whenever you come across a web page or website interesting enough to share by email, you do not have to copy/cut the web page address and paste it in your email program.

This can be done much more simply, directly from the open Firefox window.

While this tutorial shows examples on Windows Vista, using Outlook 2007 as email program, the same procedure will work across platform (other Windows versions, Mac OS, Linux…)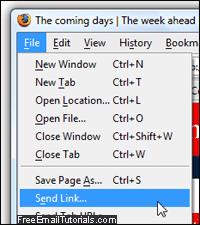 Once you have navigated to a web page you'd like to share by email, click on Firefox's File menu, and choose the Send Link command.

Depending on the extensions you have installed on Firefox, you File menu may look slightly different; but the built-in Send Link command will appear on it.

Firefox's Send Link command sends to your operating system (Windows, Mac, Linux) the following request: open the default email program, populate its subject line with the current tab's web page title, and its body with the current web page's address (URL).
The success of this request depends chiefly on your default email client: but all modern email programs are able to handle such requests. Pictured below, Outlook 2007 handles the Send Link request from Firefox; notice the body and subject line.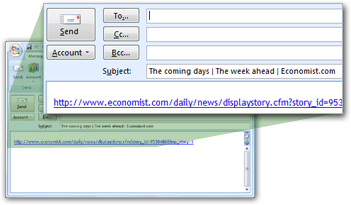 Alt + F,E Send an email link from Firefox
Emailing Links from Multiple Tabs in Firefox
This tutorial showed you how to email a link to the current page from Firefox, using Firefox's built-in functionality (i.e. no extension required).
In the Emailing a Group of Tabs from Firefox tutorial, you will see how you can email a series of links to the web pages you have open in the active Firefox window. This more advanced functionality is possible thanks to a handy extension you can install in Firefox.