Email links to a group of tabs in Firefox

One of the great power of the Firefox browser comes from its numerous extensions; extensions are mini-programs that are developed to work as part of Firefox, to enhance its original functionality. In this tutorial, we will show you how to use the Send Tab URLs extension; ("URL" means "Internet address").
Firefox lets you open multiple Firefox windows; each window can have multiple tabs open. Invoking the Send Tab URLs command will create an email, in your default email application, containing a listing of links to all browser tabs opened in the current window. Not only that: it will also use the title of each web page to preface each link.
Installing the Send Tab URLs Firefox Extension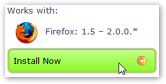 Firefox extensions can be downloaded from secure pages on the Mozilla.org website; navigate to the link below.

Click Install Now to install the Send Tab URLs extension, and restart Firefox; if the installation was successful, you will find a Send Tab URLs… command under Firefox's File menu.
https://addons.mozilla.org/en-US/firefox/ad…

Emailing Links to a Group of Tabs in Firefox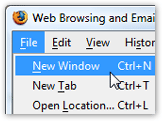 Now that you have installed the Send Tab URLs extension and restarted Firefox, it is available anytime you need it. This extension is ideal for research projects, for example.

Remember that the extension only takes into account the tabs in the current Firefox window, make sure that all related tabs share the same window. To use a separate window in Firefox, simply go to File > New Window.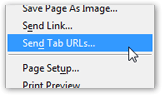 Now that we have loaded a series of tab in a new Firefox window, we want to email them; go to the File menu, and click the Send Tab URLs… command.

The Send Tab URLs Email Formatting Options will open, asking you how want your links displayed.
Formatting Your List of URLs Email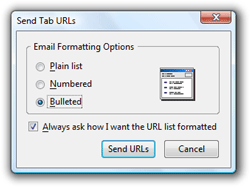 Send Tab URLs offers three email formatting options, remembers the option picked between each use, and lets you optionally by pass the email formatting option altogether. (Uncheck the Always ask how I want the URL list formatted checkbox.)

Once you have made your email formatting selection, click the Send URLs button, or hit Enter on your keyboard. To go back to Firefox without emailing the list, click Cancel, or hit the Esc key.
Alt + F,D Send Tab URLs keyboard shortcut
Here is a preview of what each email format looks like: (we have loaded in Firefox the homepage of several major news website.)

A new email window from your default email program should appear, and contain the titles and link to the pages you have loaded in each tab of the current Firefox window: