Disable AutoComplete in Internet Explorer 9 / 8 / 7 / 6
For as long as we can remember, Internet Explorer comes bundled with a feature called "AutoComplete", enabled by default, which allows the web browser to remember values you typed inside form fields that share some characteristics. Well designed web pages take advantage of this feature by naming their text fields in a way that increases the chances of lessening the amount of typing you need in a contact form, for example: just typing the first letter of your email address will bring it up, allowing you to either click-to-fill-in, or press the Down arrow on your keyboard and then Enter to use the highlighted AutoComplete value Internet Explorer suggests. Here's AutoComplete in action: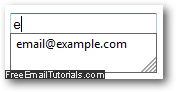 But, whatever your reason, Internet Explorer also lets you turn off and disable AutoComplete altogether, with granularity: you can keep AutoComplete for some things like the address bar, but stop it for form fields, as we'll explain in this tutorial.
Customize and/or turn off AutoComplete in Internet Explorer
Follow these simple steps to customize your current AutoComplete settings:
Start by opening Internet Explorer, if it is not already running; then, click on the Tools menu and choose "Internet Options" in Internet Explorer 7 or Internet Explorer 8, or simply "Options" in Internet Explorer 6. (If you do not see a Tools menu or an equivalent "gear icon" menu, press Alt+T on your keyboard to display it.)
When the "[Internet] Options" dialog opens, click on the "Content" tab.
Now click on the "Settings" button under "AutoComplete":


Internet Explorer will open the "AutoComplete Settings" dialog, which looks like this:


The "Address bar" checkbox is checked by default, which means that Internet Explorer will help you find your target content from any source that is checked below it ("Browsing History", "Favorites", and "Feeds"). To turn off AutoComplete completely for the Internet Explorer address bar, simply uncheck that checkbox - alternatively, uncheck just the data sources you don't want to use for auto completion.
To turn off AutoComplete for forms - anything from a login form for credentials like Hotmail Sign in, to a simple email contact form, just uncheck the "Forms" checkbox:


If you no longer want to let Internet Explorer remember your user names and passwords for login forms on the web, uncheck the corresponding checkbox below.
Once you have customized your settings or turned off AutoComplete altogether, click on the "OK" button to apply your new choices and go back to the Internet Options dialog. Click "OK" once more to return to Internet Explorer with AutoComplete now updated:


And that's it, configuring or disabling AutoComplete in your web browser is just that easy. If you ever want to go back and re-enable AutoComplete in Internet Explorer, just follow the steps we outlined above, and this time check all the features you want to resume using!