Windows Mail Download
A common question is where to download Windows Mail from, and the answer is simple: like Outlook Express, Windows Mail ships bundled with the Windows operating system. But, unlike Outlook Express, Windows Mail only shipped pre-installed on Windows Vista - Windows 7 does not include an email program.
Download Windows Mail not possible
Since you cannot download Windows Mail, the only version of Windows on which you can use it is Windows Vista. And since it comes preinstalled on your computer, you do not need to download it. Microsoft does offer an alternate email program, confusingly named "Windows Live Mail", which is available for Windows XP, Windows Vista, and Windows 7. (You can learn more about it in our Windows Live Mail tutorial.)
To locate Windows Mail on your computer (and it is installed if you are running Windows Vista), click on the start menu, then click on the All Programs submenu: the Windows Mail icon (shortcut) is located at the top level, in other words not inside a subfolder.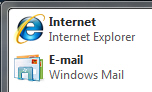 By default, Windows Mail is pinned at the top of Windows Vista's start menu, as shown on the screenshot.

The Windows Mail icon will remained pinned to the start menu unless you right-click on it and choose "Remove from this list". Otherwise, Windows Mail will remain available in the start menu, just a click away, when you need to read your emails!
Learn more about the start menu in Windows Vista.
Windows Mail download for Windows XP
As you know by now, Windows Mail download for Windows XP is not an option. So, for alternate solutions to Windows Mail on Windows XP, please see our Windows Mail for XP tutorial, where we will explain what you can do about the Windows Mail problem for XP.
Windows Mail download for Windows 7
Likewise, Windows Mail download for Windows 7 isn't possible (in fact, unlike XP, Windows 7 even ships without any email program installed at all, which narrows down your options). For alternatives to having Windows Mail on Windows 7, please see our tutorial on Windows Mail for Windows 7, where we discuss other possible routes.