Mozilla Thunderbird News

Note: All external links open a new window

Thunderbird 2 Released Last Week (April 23, 2007)
The long awaited Thunderbird 2 was released last week, and includes all the features we reviewed on our Thunderbird 2 Preview page.
Download:
Thunderbird 2 (Windows, US English)
Thunderbird 2 (all platforms & languages)
Thunderbird 2 Beta 2 Is Out! (January 25, 2007)
Thunderbird 2, Beta 2, is now available for download from Mozilla's website. Keep in mind that although Beta 2 is close(r) to a final product, the version of the email client is not meant for a production environment. If you decide to download and install it, it would be a good idea to tell the installer to create a new folder, rather than install it on top of your stable Thunderbird 1.5.
Download:
Thunderbird 2 Beta 2 (Windows, US English)
Thunderbird 2 Beta 2 (All available platforms and languages)
Thunderbird 2 Beta 1 Is Out! (December 13, 2006)
Mozilla released Thunderbird 2 (Beta 1) yesterday. While it is a more stable release than the Thunderbird 2 Alpha 1 made available last July, it is not meant for a production environment. Testers and developers can download it; make sure to participate by reporting bugs to Mozilla developers, the more the merrier. Thunderbird 2 adds quite a few improvement to an already mature email client; see for yourself some of Thunderbird 2's new features.
Source: Thunderbird 2 Beta 1 Announcement and Download Page from the Mozilla website.
Thunderbird + Eudora = Penelope (October 13, 2006)
Here is a big event in the history of email clients: Qualcomm, founder of the once prevalent Eudora email client, has made an arrangement with the Mozilla Foundation. Looking at Qualcomm's current focus, Eudora seems out of place: "QUALCOMM has decided not to remain in the email market because it is not in alignment with the core business or strategic goals", explains Qualcomm's website.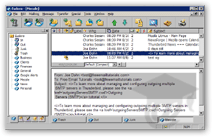 Eudora will become an open-source email client based on Mozilla's code base. Actually, a very promising new email client: indeed, many of Eudora's innovative features have not yet been integrated in other, newer email clients.

On the other hand, Eudora has been in desperate need of a major interface overhaul. Changes in usability expectations and interface design norms and tastes make Eudora look like a travel in time to the days of Windows 95.
Mozilla's announcement on MozillaZine: "The Mozilla Foundation and Qualcomm have announced that future versions of the Eudora mail client will be based on Mozilla Thunderbird (…) available in the first half of 2007 and will be both free and open-source (…) will retain "Eudora's uniquely rich feature set and productivity enhancements". Thunderbird and Eudora will remain separate products (…)"
Source: Mozilla's Announcement, Qualcomm's Eudora FAQs, and the resulting Penelope Project.
Multiple Vulnerabilities in Mozilla Thunderbird (September 16, 2006)
"Some vulnerabilities have been reported in Mozilla Thunderbird, which can be exploited by malicious people to conduct man-in-the-middle attacks, bypass certain security restrictions, and potentially compromise a user's system." writes security firm Secunia.

"The problem is that scripts (…) can be executed even when JavaScript has been disabled" (Original source: Secunia advisory)
An appropriate update is available from: Mozilla.com/Thunderbird.
Or more simply, run Thunderbird, and go to Help > Check for Updates.
Sunbird and Lightning: Test Case Writing Day (August 8, 2006)
"As Mozilla prepares to release updates for its calendar applications Sunbird and Lightning, project developers are calling on the user community to participate in the final stages of testing. Mozilla has proclaimed today as Test Case Writing Day, and users worldwide are encouraged to participate."
Although most Thunderbird fans would participate anyway, Mozilla offers US$25 gift certificates to the two most prolific writers: Mozilla Test Case Writing Day
Thunderbird 2 Alpha 1 (July 28, 2006)
The next version of Thunderbird promises some very exciting features, such as favorite folders, email tags, inline incremental search for emails, folder hints, and a consolidated Add-ons Manager for themes and extensions. Preview some of the new features — Official Release Notes

"Mozilla users warned--upgrade now" (April 19, 2006)
"CERT advises people who use Mozilla's e-mail software, Thunderbird, and the Internet application suite Seamonkey to also upgrade to the latest versions (Thunderbird 1.5 and Seamonkey 1.0.1). CERT warned that any other products based on older Mozilla components, particularly the Gecko rendering engine, may also be affected."

(ZDNet article source no longer available online) — Apparently, anyone running Thunderbird 1.5 or Seamonkey 1.0.1 should be fine. One more reason to have version 1.5… As far as Firefox goes, make sure you upgraded to 1.5.0.2.
USB-Portable Thunderbird (April 1, 2006 - No Joke)
"Portable Thunderbird is a safe and fast email client that is easy to use. It has all the great features of the regular Thunderbird including quick message search, customizable views, support for IMAP/POP, RSS and more. (…)"

(Article from The Daily Star - no longer online) — Portable Thunderbird allows you to carry your email client (and other applications) on a simple USB flash drive: Portable Thunderbird Homepage
A Calendar for Thunderbird (March 20, 2006)
"The Calendar team is proud to announce the first official release of the new Lightning extension: Lightning 0.1 for Windows, Linux and Mac OS X. This is a major milestone on the road to an integrated calendar for users of the award-winning mail-client Mozilla Thunderbird 1.5. Thanks go to all developers, testers and other supporters of the project. More information and download instructions are available on the Lightning Homepage. (…)"

Read the rest of the article — Lightning, still in early stages of development, is a calendar extension for Thunderbird: Lightning Homepage — Our brief Lightning Calendar tutorial
E-Mail Programs Still Don't Deliver (March 12, 2006)
"To a lot of people, e-mail has become something that only lives on the Web in free services such as Yahoo's or Google's. Why bother running a separate program just for your mail when you can pile up messages by the gigabyte on somebody else's server, then access it from anywhere?"

An interesting -albeit slightly biased- article on Thunderbird's position among modern email clients for the desktop — Read the rest of the article.