Mozilla Thunderbird 2 Tutorial
The Mozilla Foundation came out with its second-generation, standalone email application in April 2007. Thunderbird 2 builds on the powerful foundation of the stable Thunderbird 1.5.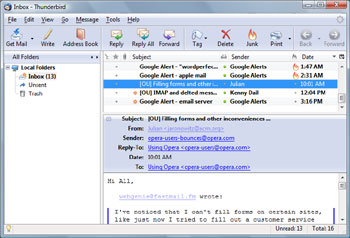 Seen above running on Windows Vista, Thunderbird 2 is at least as stable as its predecessor, but comes with more features, and a greater flexibility.
Our Thunderbird 2 tutorials will progressively go live over the coming weeks. In the meantime, you can read about some of Thunderbird 2's most notable new features in the Thunderbird 2 Preview page we published in July 2006.