Mozilla Thunderbird's Address Book Viewer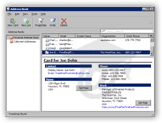 Thunderbird's Address Book is used to store all your correspondents' contact information.

Aside from email addresses, Thunderbird lets you store physical address, website, phone/fax/mobile/pager numbers, 4 custom fields and notes.

By default, Thunderbird will add to the address book email addresses from people you respond to, a handy feature.
Ctrl+2 Show Address Book
Ctrl+1 Show Thunderbird
To customize Thunderbird's Address Book, please see the Customize the Address Book tutorial.
You can import contacts into Thunderbird from other applications' address books. Contacts can be imported from Qualcomm Eudora, Microsoft Outlook, Outlook Express, or text files (LDIF, Comma-separated or tab delimited). For more details, please see the Import Your Contacts tutorial.
Exporting Your Thunderbird Address Book (Contacts)
Thunderbird lets you export your Address Book as LDIF file (for LDAP directory), Comma-separated values (CSV) file, or tab-delimited file (TAB/TXT).

To export your Address Book, go to Tools > Export (from the Address Book window), and select your preferred export format.

This method can be used to backup your address book, but there are more efficient ways to backup your Thunderbird profile: please see the Backup and Restore tutorial.
Choosing to export your Thunderbird address book from the Tools menu will only export the address book currently selected.

You will need to repeat the operation as many times as you have address books.
Multiple Address Book Support

Thunderbird supports multiple address books, which lets you to efficiently manage your contacts. Two address books come by default, the "Personal Address Book", and the "Collected Addresses", (where Thunderbird adds email addresses from people you respond to.)

To create a new, custom address book, click the address book's File menu, then New, and Address Book.

Thunderbird will let you use any combination of words and characters for your new address books.
Thunderbird will not prevent you from using a name already taken for your new address book.
Email Distribution List
Thunderbird also lets you create "Lists", that are collections of email addresses. "Sales Team" would be an example of list, and would contain the email addresses of all the employees who work in the sales department.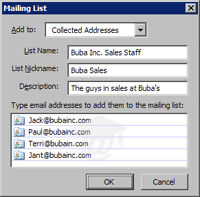 Each email contact can be individually added. You can also add email addresses pre-existing in other address book; however, this will not carry over the rest of the information.

To share a contact between several address books and distribution lists, create the list without him/her. Then drag the contact from a pre-existing address book to the new address book or distribution list.

Likewise, updating a contact in one address book or email distribution list will not update the other instances of that contact: Thunderbird's address book is not a database, merely a receptacle for static information.
Address Cards in Thunderbird
Aside from displaying static text information about a given contact, Thunderbird transforms URLs and email addresses into clickable links. It also shows a Get Map button that opens a browser window to Google Maps for the physical address.
Ctrl+N New Address Book Card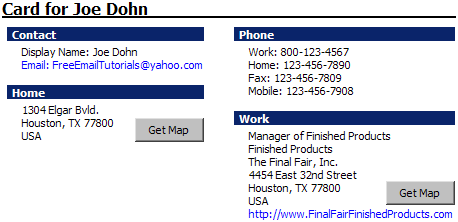 By default, Thunderbird will add to your Personal Address Book email addresses from people to whose emails you respond.

Thunderbird's address book contains an advanced search utility, which lets you specify very narrow filter to find information. This interface is well designed, and intuitive, so we'll just mention it, and let you discover it.
Ctrl+Shift+F Find a contact in address book
Adding an Email Address to Your Address Book

When a new email comes in, and its sender is not yet in your address book, right-click on the sender's email address in the email header, and choose Add to Address Book. The New Card dialog opens, pre-fills the Email field with the email address, and lets you add other information in the address card before saving it (if you click OK).