Customize Thunderbird's Address Book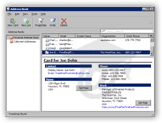 Thunderbird's Address Book is used to store all your correspondents' contact information, from name and email address, to physical address and job description.

For more information on the Address Book itself, please see the Thunderbird Address Book tutorial.

We will now show you how to customize the Address Book.
Ctrl+2 Show Address Book
Ctrl+1 Show Thunderbird
Show or Hide the Card Summary Pane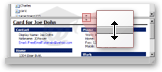 By default, the Card Summary Pane should be visible. If it isn't, go to View > Card Summary Pane, or pull it up into visibility as shown on the left. Your cursor will change from an arrow into a double-headed vertical resize arrow.

Thunderbird Address Book's toolbars can be shown or hidden by going to View > Toolbars.

These settings are independent from Thunderbird's main window: for example, the status bar or Search Bar can be visible in one and hidden in the other.
Customize Display Names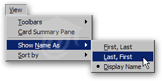 The way in which contacts' names are displayed can be customized by going to View > Show Name As First Last/Last First/Display Name.

"Display Name" is a separate, customizable field available for each contact's card, where you can for example enter a nickname.
Change Sort Order and Customize Columns

Both sort order and visible columns can be customized too. To show or hide columns of contacts' information in Thunderbird's Address Book, click the column drop-down menu (highlighted on screenshot): it will display all columns available in Thunderbird's Address Book.

Check or uncheck column names until you have the column headers you wanted.

To change the order in which your contacts are sorted, click on the column header. To invert the sort, click again on the same header. An embedded icon arrow should appear, pointing upwards or downwards, whether the sort is ascending or descending.