Email Accounts Settings in Thunderbird: Disk Space Settings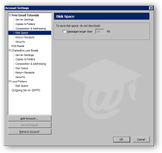 If you are working with a limited storage capacity hard drive, Thunderbird can help by only downloading emails below a certain size.

By default, all emails are downloaded. To setup a maximum allowed size, go to Tools > Account Settings, and select the email account for which you would like to set a size limit.

Click on the Disk Space settings on the left pane.

Check the Messages larger than checkbox, and enter a size.
The email size value is in KB ("Kilobytes"); to prevent Thunderbird from downloading emails larger than one megabyte (1 MB), enter 1000 in the size field.
1,000 KB (Kilobytes) = 1 MB (Megabyte)
For tips on efficiently managing disk space in Thunderbird, and general maintenance tips, please see the tips section of the General Maintenance tutorial.