Composition Options in Mozilla Thunderbird

To access Thunderbird's Options dialog and modify its settings, go to Tools > Options, click the desired topic and select the appropriate tab, as applicable.
Thunderbird's General Composition Options

The first option Thunderbird lets you define is how to forward emails: Inline or As attachment. Inline means that the body of the email you want to forward will be appended to the new email message you create by asking Thunderbird to forward. (Otherwise, it will be an email sent as attachment.)
Unless you have specific reasons not to include an email forward inline, you should let emails be forwarded inline, by consideration for the recipient: scrolling down is a lot easier than double clicking an email attachment.
The 8-bit characters checkbox allows you to force Thunderbird to use Quoted Printable MIME encoding when it encounters email from a character set other than ASCII. Basically, ASCII doesn't have enough character to represent some symbols or ideograms. Enabling usage of Quoted Printable when 8-bit characters are found in your emails allows Thunderbird to use a 3-character combination of ASCII digits to represent the desired symbol or non-latin letter.
ASCII is the only character encoding supported by SMTP, the protocol that allows emails to travel over the web. MIME allows binary content of emails (like graphic content) to be encoded as a string of ASCII characters. MIME is an Internet standard supported by all modern email clients with a graphical user interface, (vs. a command line virtual terminal).

ASCII = American Standard Code for Information Interchange
SMTP = Simple Mail Transport Protocol
MIME = Multipurpose Internet Mail Extensions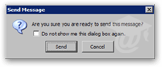 By default, Thunderbird warns you before sending an email using a keyboard shortcut, (like Ctrl+Enter or Alt+F,D). This is practical in case you happen to be holding down the Ctrl key while trying to insert a new line. Thunderbird lets you turn off this reminder either from the popup confirmation dialog or from the Options dialog's Confirm when using keyboard shortcut to send message checkbox.

Thunderbird can automatically save the email you are editing to the Drafts folder. Unless you email novels to your friends, no need to add an event listener, most emails will be composed and sent before 1 minute. Besides, you can manually save (Ctrl+S) the email while editing it.
Plain text emails can be wrapped after any number of character you want: this number depends on your monitor's resolution, and the size of the Thunderbird window when you read your emails. 72 characters with the default monospace font works fine at 800x600 pixels resolution.
Ctrl+SSave in Drafts the current email
Thunderbird's Send Options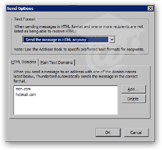 Click the Send Options button: the Send Options dialog will open, and let you customize how Thunderbird formats emails by default, and depending on the domain (@hotmail.com, @aol.com, …) The per-domain settings will override the global setting chosen from the Text Format drop-down menu.

Thunderbird lets you choose between the following: always send HTML emails, always send text emails, send both (HTML with a text attachment), or ask every time.
Ask every time gets irksome after a while, Send both more than doubles your email size, Always HTML means that your emails will look like gibberish to some people, and Always text will make your emails boring to most people. Your pick, the decision depends on your usage and correspondents, we have no absolute recommendation.
Thunderbird's HTML Options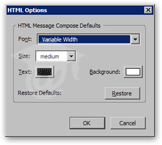 Click the HTML Options button, and you will be able to determine Thunderbird's settings when you create HTML (rich content) emails.

You can choose a generic font style (see Display Options - Fonts), a cross-platform alternative ("Helvetica, Arial", "Times", or "Courier" — common, but surely installed on your recipients' computer), or a font installed on your computer, (your recipient may not have it and see it, but he or she should be able to read your email with his or her email client's default alternative font).
Thunderbird also lets you pick the default relative font size and color. For font size, medium is safe, and should make your emails easily by older people, while not look huge to younger ones.
Foreground (text) and background colors can be set too. We recommend that you stick to a conservative, high-contrast, dark grayscale over light grayscale: your recipients may have different tastes from yours when it comes to a "cool color combination".
You can always use the Restore button if you feel like you went overboard.
Thunderbird's Return Receipts Options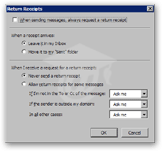 Thunderbird supports Return Receipts: return receipts allow you to know that an email has been successfully delivered. (You may know return receipts as Delivery Receipts in other email clients, which are not the same as Read Receipts.)

To ask Thunderbird for a return receipt every time you send an email, simply check the When sending messages, always request a return receipt checkbox.

When a return receipt comes back, Thunderbird can automatically file it in the Sent folder, or drop it in your inbox, (pick your preference under When a receipt arrives).
Additionally, you can choose how Thunderbird handles itself requests for return receipts: by default, Never send a return receipt is selected. Use the radio buttons ( ) and the drop-down menus to customize your return receipt settings.
Return receipt requests are handled at the mail server level, which is beyond Thunderbird's control. Many mail servers and email clients do not send anything upon receiving an email. This does not mean that your email was not delivered.

On the other hand, receiving a return receipt does confirm that your email has been delivered.
Thunderbird's Addressing Composition Options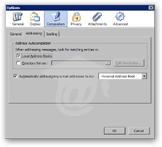 When you address an email, (typing email addresses in the To, Cc, or Bcc fields), Thunderbird auto-completes email addresses for you. (If it doesn't find a match, the addressee's yet incomplete email address becomes red.)

By default, Thunderbird uses your Local Address Books for autocompletion. While you type, it performs a quick search against your contacts' email addresses in the relevant address books.

Not only can you prevent Thunderbird from searching local address books by unchecking that checkbox, you can also use network LDAP address directories. To enable Thunderbird to (also) search against remote address books, check the Directory Server checkbox, and add directories with the Edit Directories button.

If you are using Thunderbird from work, check with your System Administrator, your corporate network may support or already have LDAP directories.
Outgoing Emails' Addressee(s)

By default, Thunderbird will add the email addresses of all outgoing emails to your default local address book, (Personal Address Book normally). Using the drop-down menu, you can choose in which address book Thunderbird will add (if enabled) your recipients' email address. (Remember, Thunderbird supports multiple address books, and you can create new ones as needed.)
To prevent Thunderbird from adding to your address book email addresses of people to whom you send emails ("email recipients"), simply uncheck the "Automatically add outgoing e-mail addresses…" checkbox. From thereon, Thunderbird will not automatically add your email recipients as contacts!
If you want to keep email addresses from people to whom you send emails, but do not want them listed in your primary address book, just create a "junk" address book from which you can selectively drag contacts in your main address book.
Thunderbird's Spelling Composition Options

By default, thunderbird's built-in spell-checker is enabled. It checks the spelling of your emails before sending them, but also checks their spelling as you type them.
For more on Thunderbird's spell-checker, please see the sending emails with Thunderbird tutorial.