Email Titles / Subject Lines - Email Etiquette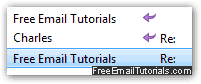 Although you can configure email programs to show a preview of the message's body in a folder listing, the default is to only show the subject line, or "email title", in the folder; this means that, aside from sender, the subject line is the primary factor determining whether the email will be opened or deleted right away, and when the message will be opened and read. For this reason and other practical considerations will explore in this tutorial, email etiquette dictates a number of rules, or suggested guidelines, to follow when you click on the "Send" button - whether you are composing a new email, replying to one, or forwarding it to others. Let's cover each of these three types separately.
Side Tip: When you send an email, it is by default stored in your "Sent" items folder; we recommend automatically including yourself as Bcc recipient, which allows you to keep a copy of each (important) email in the thread, even if (a) you empty your sent items (or they are purged automatically), or (b) the other party never responds to your message.
Leverage a compelling subject line for new email messages
For brevity's sake, let's ignore the commercial aspect of subject lines in newsletters or mass emails (covered in our Email Marketing Tutorial), and focus instead on titles for personal and professional emails, typically sent from one person to another person or group. Here are three guidelines to follow, with some flexibility based on your judgment and situation:
Keep your emails' subject line short and accurate. Also, remember that email titles may be prematurely truncated and flanked by ellipses, shown here in Hotmail:


To enhance legibility (people tend to scan, rather than read, when they are in front of a monitor), skip the grammatically correct title casing in favor of sentence casing - example: write "I received your package" instead of "I Received Your Package". Aside from being faster to type for you and postponing carpal tunnel syndrome, it will be easier (and quicker) to read for email recipients, who will see your email alongside tens, if not hundreds of other emails: make the first letter of the first word a majuscule, and leave the rest in lower case - exceptions include subject lines like "iTunes 11 just released!", where a word or trademark starts with a minuscule.

Tip: if the subject line is only 3-4 words long, doesn't include a preposition ("on", "over"), an article ("a", "an", "the"), or a verb ("do", "eat", "sleep"), using title case will work best. It's not an ironclad rule, just pick what "looks more right".
If at all possible, keep a single topic by email message; this increases the likelihood of related actions taken on the recipient's part, and keeps ongoing threads clearly delineated. If not feasible, choose an all-encompassing title like "New Action Plan" (a good example of subject line that works best with title casing!)
Should you change email subject lines in replies?
There are two cases where it is not only appropriate, but recommended, to edit the subject line in during an ongoing email exchange (conversation thread with one or more parties).
If the original sender did not include an email title, messages in the thread will read " " (blank) and "RE:", the standard prefix for email replies. Aside from offering little help in contextualizing the conversation, you won't be able to search for these emails by subject line, and your email program / webmail client won't be able to sort by conversation thread). In that case, feel free to add a relevant title of your own.

Tip: if you double-click on a message in Microsoft Outlook, you'll be able to edit and save a new title, even if the original email did not include subject line. This won't change anything on the sender's end, but makes your email filing life easier.
If an email exchange suddenly shifts to another topic of conversation: for clarity, and to make future referencing of these emails easier in the future, it is quite OK to remove the "RE: New email policies", and reply with an updated "Team Assignments" subject line, for example. The same effect can be achieved by breaking continuity and starting a brand new email message.
Tip: feel free to temper with the default email title's prefix for new messages (none) when you are writing an email as follow up to a live conversation or phone exchange, by starting a blank email with a subject line like "RE: Phone Call", or something less generic - in other words, adding context by manually prepending the "RE:" prefix of email replies.
Optionally pick a different title for email forwards
Common courtesy will let you know whether or not to include a few words in the body of the forwarded message (in doubt, do) - but what about the title of the email?
In some cases, leaving the original subject line intact will be clear and descriptive enough, and save you some typing; and the "FW:" prefix that begins the title of forwarded messages is such a commonly followed convention that most everyone who has ever used email will know that this is a forwarded email. (Note: the prefix added depends on the user's operating system language setting, and "FW:" is used for English, not any language.)
If you update the forwarded email's title (in whole or in part), you can remove the "FW:" prefix - it will avoid any confusion; and we recommend always adding a simple explanation in the message body as to why the forward was worth the recipient's time (even something as simple and generic as "Please see below" may do the trick at times). Better yet, consider copy-pasting relevant excerpts from the forwarded message if over a third of it doesn't apply to your intent (this depends on how much you value your time vs. your recipient's, and context may force you to keep even the less relevant bits).
More email etiquette tips in our "Email Forwarding" tutorial.