What is RSS?
What is RSS? And what are RSS feeds? — RSS stands for Really Simple Syndication. RSS is a simple but standardized way to represent text. Since it is simple, anyone can create RSS feeds. Since it is standardized, anyone can read RSS feeds, whether they use Windows, Mac or UNIX. The simplicity and flexibility of RSS publication and distribution accounts in large part for its success as a distribution channel: currently, RSS feeds are used mostly for news releases, and blogs (online diaries).
How Does RSS Work?
Since RSS is nothing more than a "format", it doesn't do anything in itself. But since it presents itself in an expectable way, RSS Readers (software used to read RSS feeds) know how to handle RSS feeds' underlying code.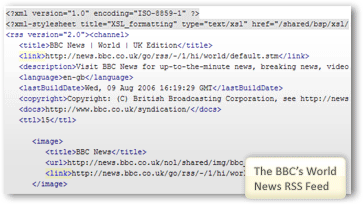 In sum, RSS feeds are simple text file containing publisher information and regularly updated news items. The RSS feed itself is updated by editors, so that every time you "refresh" the RSS feed, it displays the latest news that were added to it.
How Can I Read RSS Feeds?
RSS feeds are most commonly read using:
RSS Reader — An RSS Reader is a piece of software designed to Read RSS feeds. Since RSS Readers often perform that unique function, they tend to be quite sophisticated.
Email Program — Some email clients also couple as RSS Reader: Thunderbird, Opera Mail and WordPerfect Mail provide "out-of-the-box" support for RSS feeds.
Web Browser — Some web browsers, like Internet Explorer 7, Firefox, Opera, and Safari allow you to read RSS Feeds directly from your browser. Opera and Flock (a browser based on Firefox) feature a built-in, full-fledged RSS Reader.
Web Page — RSS Publishers with their readers' concerns in mind also create a style sheet, so that even users without functionality for RSS can read their RSS feeds.

Such examples includes the BBC's news feeds, which can be read directly from your browser.

Modern web browsers use an icon to signify the presence of RSS feeds in a given website. This orange icon is quickly becoming the standard icon for RSS feeds.