Spelling Options in Outlook 2003
Like other applications from the Microsoft Office suite, Outlook 2003 comes with a bundled spell-checker. Unlike other email programs, Outlook benefits from features in Office, like AutoCorrection and custom dictionary.

To access the Spelling Options in Outlook 2003, go to the Tools menu, and choose Options. Then select the Options dialog's Spelling tab.
General Spelling Options in Outlook 2003

Outlook 2003 can help you by checking your spelling and/or grammar as you type your emails. Outlook's Spelling Options allow you to configure the degree to which you let Outlook control your publications.
The Always suggest replacements for misspelled words checkbox controls whether Outlook helps you or not by underlining with a wavy red line words it perceives as misspelled.

Whether or not Outlook checks your spelling while you type, it can prevent you from sending out misspelled emails by enabling the Always check spelling before sending option, (off by default), and give you a last chance to review your text before emailing it.

Ignore words in UPPERCASE instructs Outlook 2003 to skip any word in uppercase character not in Office's dictionary, (like acronyms).

Similar to the option above, enabling Ignore words with numbers tells Outlook 2003's spell-checker to ignore words includes numbers (digits). This typically includes product names, SKU numbers…
Checked by default, Ignore original message text in reply or forward tells Outlook 2003 to worry exclusively about your spelling, not your email correspondents'.

Use AutoCorrect when Word isn't the email editor defines how Outlook 2003's built-in editor handles auto-corrections. If you use Microsoft Word as Outlook's text editor, Outlook will use Microsoft Office's AutoCorrect settings.
AutoCorrect Options in Outlook 2003

Outlook 2003's AutoCorrect feature can automatically replace pre-defined text with a matching expression. Outlook's AutoCorrect options are covered in the Outlook AutoCorrect Options tutorial.
Edit Outlook 2003's Custom Dictionary

Outlook 2003 lets you create a custom dictionary of words that should be ignored by the spell-checker (like uncommon person or organizations names…) Edit Outlook's custom dictionary.
International Dictionaries in Outlook 2003

Depending on your Windows settings, one language or another may be enabled by default for Outlook's spell-checker.

Outlook 2003 will check the spelling of your emails against the dictionary you have selected. (Make sure you have the correct version of English dictionary selected.)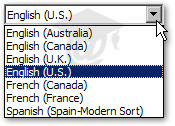 "Out-of-the-box", Outlook 2003 comes with the following international dictionaries: English (Australia, Canada, U.K., and U.S.), French (Canada and France), and Spanish (Spain - Modern Sort).

More languages are supported for other than US-English Office 2003 versions, or by using Microsoft's Language Interface Packs (LIPs): Language Interface Pack Downloads