Custom Dictionary in Outlook 2003 (Spelling Options)
Like other Microsoft Office applications, Outlook 2003 comes with more than a built-in spell-checker; on top of it, and the AutoCorrect options we covered, Outlook lets you define a custom dictionary of words that normally would be flagged as misspelled.

To access the Spelling Options in Outlook 2003, go to the Tools menu, and choose Options. Then select the Options dialog's Spelling tab.
Editing Your Custom Dictionary in Outlook 2003
Outlook 2003 and Office 2003 come with a built-in "dictionary", or list of recognized words against which your spelling will be compared. But as everyone else, you use custom names or acronyms particular to your region or industry.
Rather than see these unrecognized words tagged as misspelled, tell Outlook 2003 to accept them by adding them to your custom dictionary. Any time you right-click on a perceived misspelled word, and choose "Add to Dictionary", Outlook will add this word to the custom dictionary, and stop tagging it as misspelled.

By clicking the Edit button, Outlook will let you add words directly to your custom dictionary. After showing the "Changes you" warning dialog, Outlook opens the CUSTOM.DIC text file with Notepad (or Windows' default text editor).

Outlook leaves you on your own to guess that you need to type one entry and hit [Enter] to add another one. If you have previously used the spell-checker's "Add to Dictionary" option, you should see all these words, acronyms and expressions listed in the CUSTOM.DIC text file.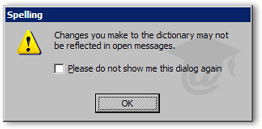 Whenever you click the Edit button, Outlook 2003 will warn you that any changes you make to the Custom Dictionary will not be taken into account in emails already opened at this time.

Click OK, and your CUSTOM.DIC file will open (in Notepad, by default): it might be empty, or contain words/expressions, each on its own line.
Editing Outlook 2003's Custom Dictionary File ("CUSTOM.DIC")
If you ever right-clicked on a word Outlook 2003 flagged as misspelled, and chose to "Add to Dictionary", you will find that word in your "custom.dic" file.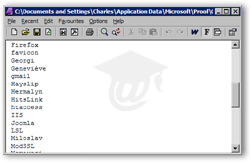 Seen here opened in the excellent MetaPad, Outlook 2003's CUSTOM.DIC text file contains all words you added to the custom dictionary, either manually or by choosing Add to Dictionary from the Outlook's spelling context (right-click) menu.

Any word or expression listed in CUSTOM.DIC will be ignored by Outlook 2003's spell checker.

To add words or expressions, simply type one per line, save and close the Custom Dictionary file.
Note that Outlook 2003's Custom Dictionary file is accessible as a regular text file, outside Outlook, in the following directory: C:\Documents and Settings\userName\Application Data\Microsoft\Proof\, where "userName" is your Windows 2000/XP user name. (Assuming Microsoft Office/Outlook are installed on a drive/partition labeled "C:", the usual default.)