Yahoo-Facebook & YahooMail-Facebook integration and applications

As we saw in a previous tutorial, you can import your Facebook contacts into Yahoo Mail; but Yahoo announced much more future integration with Facebook, currently the most popular social networking site in the world. In this tutorial, we will show you how to keep track of changes Yahoo progressively rolls out (by becoming a fan of Yahoo Mail on Facebook), and what to expect in the near future. In 2010 alone, Yahoo Mail has already added a number of features designed to integrate more tightly with Facebook, and we'll look at some of them in this tutorial.
While this tutorial focuses on Yahoo Mail, the second part will explain how to access your Facebook account from the free My Yahoo! homepage service. As time passes, we are likely to see integration and applications not just for Yahoo Mail and contacts with Facebook, but with an increasing number of Yahoo services into Facebook, and -perhaps to a lesser extent- Facebook integration into Yahoo itself.
Yahoo Mail applications and Facebook applications

Both Yahoo Mail and Facebook have "applications", or mini-programs that allow you to enhance the basic functionality of each of the services. "Yahoo Mail Friends", for example, allows you to check emails sent to your Yahoo email address right from your Facebook account. Just go to the application's page on Facebook, and click on the Go to Application button. Once you allow the application to access your Facebook and automatically log you into Yahoo Mail, you will be able to view Yahoo emails without leaving Facebook.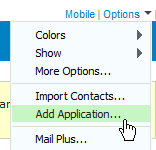 Just like Facebook, Yahoo Mail offers various applications that can be viewed from the Application Gallery: from any screen in Yahoo Mail, click on the Options menu, and choose Add Application.

Yahoo Mail does not currently offer a dedicated Facebook application aside from the contact importing tool mentioned earlier, but knowing where new applications are displayed will let you check for more Facebook integration tools to come.



Another way to keep in touch with new features and tools from the Yahoo Mail team is simply to become their fan on Facebook. Go to the official Yahoo Mail page on Facebook, and become their fan (or bookmark the page). This will keep you informed of Yahoo Mail-related news right from Facebook.
Facebook and My Yahoo
The free homepage service offered by Yahoo! is called "My Yahoo!" Unlike Yahoo Mail, My Yahoo already includes several Facebook applications you can access from within Yahoo. When you are on the My Yahoo page, just click on the Add Content button, and do a search for "Facebook" and click the lookup button.



At this time (March 2010), My Yahoo already includes 19 Facebook applications, but note that many of them are just "RSS feeds" that deliver Facebook-related news, not much else. The first application result, however, lets you connect to your Facebook account from Yahoo: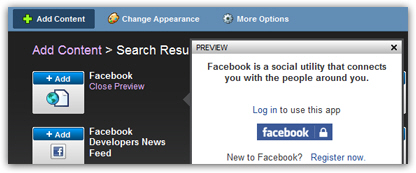 Click on the Add button, and My Yahoo will add this application on your homepage. From there, you can update your Facebook status, lookup the status of your Facebook friends, and access the latest messages you received in your Facebook account!
---
This page will be regularly updated, and so will our Facebook tutorial, so make sure to check both and befriend the official Yahoo Mail page on Facebook to stay up-to-date!