Hide or Show the menu bar (classic menus) in Windows Live Mail
By default, the "Classic menus" are hidden in Windows Live Mail - while this saves some screen real estate and gives a bit more room for emails, it means that you have to give an extra click whenever you want to show the menus (or manually press the Alt key on your keyboard to make them visible when you need them). This tutorial will show you a better way, simply by making the menus permanently visible; this is a setting you can turn on or off at your will, and we'll also explain how to hide the menus after the fact.
Show the menus in Windows Live Mail
Follow these steps to make the menu bar always visible:
If needed, open Windows Live Mail.
Then, click on the menu (as shown below), or press the "Alt+M" keyboard shortcut:


Then, choose "Show menu bar" at the very bottom of this menu.
As soon as you do, Windows Live Mail will show a list of menus under the title bar, as most programs do on Windows 7 / Vista / XP. From this point on, most commands will be only 2 (instead of 3) clicks away; you can even save time by activating each of the classic menus by pressing the Alt key and the corresponding underlined letter, as shown below: (in case you haven't configured Windows to show accelerator keys).


For example, pressing Alt+H will reveal the "

H

elp" menu.
That's all you had to do to always show the classic menus inside Windows Live Mail!
Hide the Classic Menus in Windows Live Mail
By the same token, you can later change your mind, and decide to always hide the menus until you press the Alt key, or use the menu button as described earlier.
In that case, just click on the Menu button or press Alt+M, but this time choose "Hide menu bar&" from the dropdown menu, as shown on the screenshot below: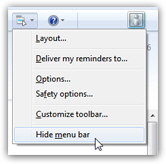 The upcoming version of Windows Live Mail does away with the menus altogether, and replaces them with a "ribbon", much like many applications in Windows 7 or Office 2007 and Office 2010.