Change display name in your Hotmail account

When you first created your Windows Live Hotmail account and profile, you typed your full name in one of the text fields that collected your information. This name you typed is now used as "display name" for your Hotmail account: in other words, this name appears as "From" sender whenever you send an email to someone. Whether you got married and need to update your name, or made a typo when setting up Hotmail initially, or for any other reason, Hotmail lets you edit and change the display name of your account. This tutorial explains how to do that.
Change your Hotmail display name

Click on the Options dropdown menu displayed in the top right corner of any of Hotmail's email screens: choose the last item, "More options" to get to the Hotmail Options screen. Under the first section of settings ("Manage your account"), locate and click on the View and edit your personal information link.



Confirming your identity before editing your profile

Note that in many cases, Hotmail will ask you to re-enter your password: this is to protect you by preventing someone from modifying your profile information if you left your computer unattended while logged into Windows Live Hotmail (for example). Type your password to confirm your identity, and then click the Sign in button.
Updating your registered Hotmail profile information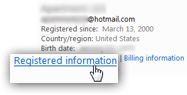 Under the Account information screen that has now loaded, the first section of information contains your email address, name, birth date, the date at which you first joined Hotmail, etc. Click on the Registered information link to change your email display name. (Note that the Billing information link needs to be updated as well if you have changed your official name, and are not just looking to change your email display name; the billing information link should not be displayed if you are not currently subscribing to the "Hotmail Plus" paid service, which we'll discuss in another tutorial.)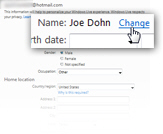 Windows Live Hotmail will now load the Registered information screen, listing all the information attached to your profile, including display name. Under Name, the display name you picked when signing up is displayed. Click Change to modify it.
Change your Hotmail profile's display name
The Your name screen will open, and allow you to change your first name and last name: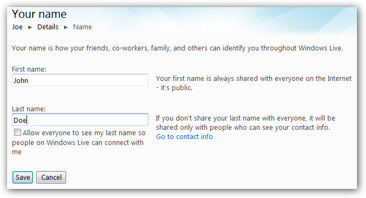 Simply type a new First name and/or Last name in the appropriate field. Your Hotmail first name is visible to everyone, but your last name is not public by default. To make your last name visible to everyone outside your Hotmail contacts, check the "Allow everyone to see my last name so people on Windows Live can connect with me" checkbox.
Once you are done, click the Save button: Windows Live Hotmail will now display the new name you picked, and bring you back to the Registered information screen; click the Mail link displayed at the top of the screen to go back to your emails and inbox. The next email you send will reflect your updated name information.