Meet Outlook Express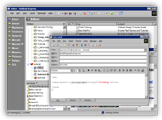 Outlook Express is a free email client made by Microsoft, and bundled with Internet Explorer. Light-weight and user-friendly, Outlook Express is one of the world's most popular email program for home users.

It is very close in functionality to its cousin's email capabilities, Microsoft Outlook. (Microsoft Outlook includes is more than an email program, and is better described as a personal information manager.)
In addition to email, Outlook Express can be used as a news reader, but for the purpose of this tutorial we will limit ourselves to its email functionality.
Differences between Microsoft Outlook and Outlook Express
Microsoft offers two desktop email clients: Outlook 2003 and Outlook Express.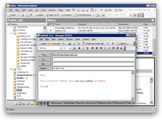 Outlook 2003, part of the Office productivity suite, includes meeting, calendaring and task management functionality. It retails at about US$100, or bundled in Office 2003 editions.

Purely from an email functionality perspective, Outlook 2003 and Outlook Express are very close.

In a business environment, where most people use Microsoft Office, Outlook clearly surpasses Outlook Express with its collaboration tools, (even without a SharePoint or Exchange server).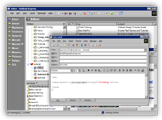 Outlook Express, on the other hand, is a (more) simple email client that ships free, included with Windows and Internet Explorer.

While a very decent email program itself, Outlook Express does not offer the array of features Outlook 2003, especially integration with Microsoft Office applications.

As an email client for your personal email accounts and home usage, Outlook Express has more features than most people will ever use.
Microsoft has realized the confusion that came from naming two similar products with the word "Outlook". In the next version of Windows, Windows Vista, a new email client is included with the operating system: Windows Mail. For all practical purposes, Windows Mail is the next version of Outlook Express, re-baptized to avoid confusion.
For more information about the successor of Outlook Express, please see our Windows Mail tutorial; and to learn more about the operating system, please see our Windows Vista tutorial!
Microsoft has published on its website a comparative table of features between Outlook 2003 and Outlook Express.
Comparing Outlook and Outlook Express

Why Learn Outlook Express?


Outlook Express is the free email program bundled with Internet Explorer for Windows. Knowing your way around Outlook Express means that you will be able to use email on virtually any computer on the planet.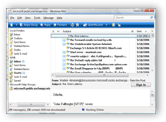 Windows Mail, Outlook Express' successor, will replace Outlook Express in early 2007. In true Microsoft tradition, most everything you know about Outlook Express will be applicable to its successor.

Aside from an interface overhaul, and the addition of support for RSS feeds (what's an RSS feed?), Windows Mail is essentially Outlook Express.