PDF Crashes Opera Mail

One of the most pervasive plugins, Acrobat PDF can also crash web browsers in some cases. This tutorial shows you how to completely avoid PDF crashing Opera by modifying the way Opera handles the PDF file type (or "MIME").
This article mostly applies to Windows; the Evince PDF viewer available for Linux is as stable and quick to load as one could wish for.
Changing How Opera Handles PDF
By default, Opera opens PDF files using the Acrobat PDF plugin. If a PDF document was loading when you killed the process, restarting will crash Opera, unless you quickly close the guilty tab before it gets a chance to load the PDF plugin. Otherwise, you are left with no choice but lose your session.
Go to Tools > Preferences, and click the Advanced tab.
Ctrl+F12Open Opera's Preferences window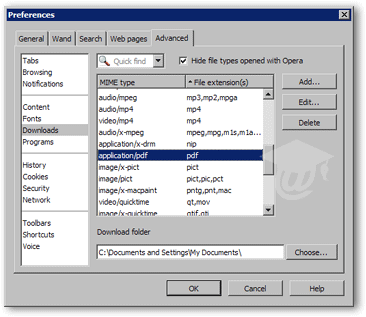 Under the Downloads section are listed the standard "MIME types" recognized by Opera. PDF is one of them: for easy location, click on the File extension(s) button, and scroll down to pdf; application/pdf should be listed on the left column.

Select PDF and click Edit (or double-click the PDF entry): the File type dialog will open.

By default, Use plug-in is selected to handle PDF documents. Instead, select Open with other application, and click the Choose button to browse to your Acrobat (Reader) application. The path should be something like C:\Program Files\Adobe\Acrobat [X]\Acrobat\Acrobat.exe, where [X] is your PDF reader's version number.
This makes Opera send PDF file requests to the actual Acrobat application (and handle PDF files as a non-embeddable MIME), rather than try to load the fatal plugin.
Doing Without Acrobat Reader: Foxit PDF Reader
Acrobat PDF is the best PDF reader for hi-res graphics or commercial printing grade documents. But web users in most cases just need a fast-loading and stable way to open PDF documents. Foxit Reader does just this.
Download the (free) Foxit PDF Reader


Keep in mind that the Foxit Reader is not as sophisticated as Acrobat, and some e-magazines will not display to their full potential unless you use Acrobat Reader. But we use and recommend an alternate PDF reader as an every-day application.