Thunderbird Keyboard Shortcuts
This is a partial list of keyboard shortcuts for Thunderbird on Windows. We picked the ones you are most likely to use all the time. Keyboard shortcuts allow you to do quickly, without forcing your hands away from the keyboard, things that you would naturally do with the mouse; they're a great time saver!
The terms Return and Enter refer to the same key on your keyboard, the one that inserts a new line in a text editor, the bottom right one on your numerical keypad. Typically, the term Return is used for Macs, and Enter for Windows.
Whether you are using Windows, Macintosh, or UNIX, the menus of most applications actually reveal many keyboard shortcuts.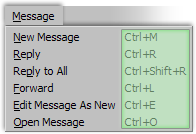 The (modified) screenshot on the left is Thunderbird's "Message" menu, with the keyboard shortcuts artificially highlighted in green.

To reply to an email, for example, you can hold down the control key ("Ctrl") and press "R", (while still holding down the Ctrl key.)

To reply to all recipients of the email, hold down both Ctrl and Shift, and press "R"
Thunderbird Keyboard Shortcuts
The keyboard shortcuts in this tutorial focus on Windows. Mozilla published a cross-platform list of keyboard shortcuts (Windows, Mac and UNIX):
Mozilla Thunderbird Keyboard Shortcuts

General Thunderbird Keyboard Shortcuts

F8
Toggle the message pane's visibility
F2
Rename current folder
F5
Send + Receive
Ctrl+U
View current email's source
Ctrl+M
Create blank email
Ctrl+N
(Also works)
Del
Delete selected email
Ctrl+Q
Exit Thunderbird

Email Organization Keyboard Shortcuts

J
Mark selected email as "junk mail"
Shift+J
Mark selected email as "not junk"
M
Toggles the selected email's "Read" status
Ctrl+Shift+C
Marks as "Read" all emails in current folder
G
Group-sort your emails
i
Toggles the selected email's "Flag" status
1-5
Assign a label to the selected email
0 (zero)
Un-label the selected email
*
Expand all threads
/
Collapse all threads
Ctrl+A
Select all emails in folder
Ctrl+Shift+A
Select all emails in thread

Email Reading Keyboard Shortcuts

Ctrl++
Increase email text size
Ctrl+-
Decrease email text size
Ctrl+0 (zero)
Normal email text size
F
Next email (tip: F as in Forward)
B
Previous email (tip: B as in backward)
N
Next unread email (tip: N as in Next)
P
Previous unread email (tip: P as in Previous)
T
Next unread thread
Ctrl+O
Open current email
Ctrl+P
Print current email

Email Message Keyboard Shortcuts

Ctrl+R
Reply to email
Ctrl+Shift+R
Reply to all recipients
Ctrl+L
Forward email
Ctrl+Enter
Send an email immediately
Ctrl+Shift+Enter
Send an email later

Email Formatting Keyboard Shortcuts

Ctrl+B
Bold
Ctrl+U
Underlined
Ctrl+I
Italic
Ctrl+L
Insert Link
Ctrl+A
Select All
Ctrl+X
Cut selected text
Ctrl+C
Copy selected text
Ctrl+V
Paste
Ctrl+K
Check spelling

Finding & Searching Keyboard Shortcuts

Ctrl+F
Find text in current email
Ctrl+G
Find again (find next)
Ctrl+Shift+G
Find previous
Ctrl+Shift+F
Search messages

Address Book Keyboard Shortcuts

Ctrl+2
Show Address Book (when in email side of Thunderbird)
Ctrl+1
Show Thunderbird (when in Address Book)
Ctrl+N
New Address Book Card
Ctrl+I
Opens current contact's properties
Ctrl+Shift+F
Find a contact in address book