ThunderTray: Minimize Thunderbird to the System Tray
First, there seems to be several names for this utility: for the record, ThunderTray, TB-Tray and Thunderbird-Tray are all denomination of the same Windows utility developed to minimize Thunderbird to the Windows system tray, start Thunderbird minimized, and more.
Alternatively, there is a Thunderbird extension called Minimize To Tray, also for Windows, which allows you to minimize Thunderbird to the system tray, as well as Firefox and the Mozilla Suite set of applications. Read more - Update: since ThunderTray is no longer available today, at least from an official download source, we recommend that you check out MinimizeToTray instead.
ThunderTray Overview

ThunderTray is a very practical utility (small computer program) for Thunderbird users on Windows. ThunderTray allows you to minimize Thunderbird to the tray area (near the clock) instead of the taskbar, where other minimized windows usually appear.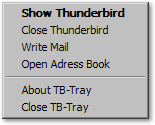 ThunderTray is not part of the Thunderbird package, but developed by Felix Geyer, an independent German programmer, who offers it as a free download - he accepts donations though.

Aside from its basic functionality, ThunderTray can start at the same time as Windows, run Thunderbird at the same time, etc. There are several configurable options.
Configuring ThunderTray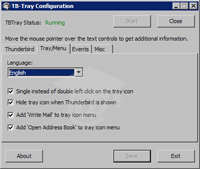 To change or add functionality to ThunderTray, setup profiles, add items to its menu, start Thunderbird minimized, etc., you need to run a separate program, but it is very easy to do.

Go to the C:\Program Files folder, locate the ThunderTray folder, and open it. Once inside, double-click the program called TBTray-Config.exe. (Depending on your Windows settings, you may or not see the ".exe" at the end.)

Restart ThunderTray after your changes, and you're done!
Download ThunderTray
To download ThunderTray, or look at other programs developed by Felix Geyer, visit: - Update: there no longer seems to be a way to download ThunderTray from an official web page; check out instead the "Minimize To Tray" extension instead:
Addons.Mozilla.Org