Spam and Junk Mail in Thunderbird
Thunderbird comes with built-in junk mail filters. Moreover, Thunderbird's filters are "adaptative"; in other words, they learn. When junk mail isn't filtered as such, you can manually tell Thunderbird that this email should have been marked as spam.
J Mark email as "junk mail"
Shift+J Mark email as "not junk"
Rich Email Content and Junk Mail Filtering
Email providers increasingly protect you from rich content, images for examples. It is technically easy to create a "dynamic image", i.e. an image which transfers information to the server merely by being referenced in an email. For example, a spammer can use such an image to determine whether your email address is active or not. (See below for a few more details.)
Because images are potential relays to a server with bad intentions, Thunderbird eliminates "Rich Content" from emails it perceives as junk, or emails you tell it are spam. Below, the same email is displayed, treated as spam on the left, treated as safe on the right. Note how images are not visible in the left screenshot.
The same email, viewed as junk mail or safe mail
- Junk Email -
- Safe Email -
Thunderbird's Junk Mail Controls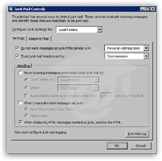 Thunderbird comes with smart spam fighting capabilities, and has an entire utility devoted to junk mail, the Junk Mail Controls. To launch the Junk Mail Controls utility, go to the Tools menu and click Junk Mail Controls….
Under the Settings tab, you will find general configuration settings, such as telling Thunderbird to trust any sender in your address book, or to trust the judgment of third-party anti-spam software running on your mail server, (like the ubiquitous Spam Assassin, or SpamPal.)
Under the "Handling" fieldset, you can configure to your liking the way Thunderbird will handle emails perceived to be junk mail.
Mozilla Thunderbird Junk Mail Controls

Since no junk mail filter is infallible, we recommend that you do not choose to automatically move to the trash emails Thunderbird perceives as junk.

It is worth taking the time to manually delete your junk emails after review. Most customers whose emails remain unanswered will take it personally.

However, telling Thunderbird to delete emails you manually mark as spam is a great time saver:

The "
Adaptative Filter
" allows you to train Thunderbird to recognize by itself junk emails, by using the Junk button to declare emails as junk/not junk.
But ensure first that the "Enable adaptative junk mail detection" is checked, (on the
Adaptative Filter tab
.)
- JUNK MAIL AND LINKED CONTENT -

goodGuys.com/logo.gif is a static, harmless way to reference an image in an email/web page.

badGuys.com/logo.php?q=john@email.com is a sneaky way to determine that the image was successfully requested by the owner of this email address - thus that the email address is active.

(Note that we are not revealing anything new here.)

The above also applies to clickable links in the body of your emails: clicking on www.badGuys.com?q=john@email.com could have the exact same effect and server script behind it.

www.badGuys.com?q=X56XAD5765SD (or any similar looking gibberish) could too.

Bottom line: do not bother opening suspicious looking emails you were not expecting to receive. Even an email appearing as coming from PayPal or Amazon.com could be a fraud.

If you have added PayPal or Amazon to your safe list, and an email from them is caught as spam, trust your junk mail filters, the email is probably a fake.