Create mail filters in Mozilla Thunderbird
Thunderbird includes "Filters", which allow it to automatically process emails as they come in, according to rules you set up. Actually, you may be familiar with the concept of filer: Outlook Express and Microsoft Outlook call them "Rules".
As you'll see in a minute, Filters are a lot easier to setup than you might think. Besides, Thunderbird's Filter dialog lets you see all conditions in one screen, making very easy to create and edit.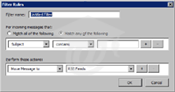 To setup a filter in Thunderbird, go to Tools, and click "Message Filters". The "Message Filters" window will pop up. Click New, and the Filter Rules dialog will open.

Make sure you type a descriptive Filter Name that you'll remember in six month - "Filter 1" is not ideal, for example.
Creating a Sample Filter
Here's a sample Thunderbird filter:

Google News emails always have "Google Alert" in their subject line. We want to move all these emails to the "News" folder we created, so that they don't clutter our inbox until we have time to read them. We'll know where to find them when we have time.
The search terms you enter for your filters are not case-sensitive. In other words, Thunderbird will apply the filter whether the emails' subject line read "Google Alert" or "google alert".
In most cases, you will find that one or two conditions will be sufficient to define Thunderbird's behavior. But you can add as many conditions as needed by using the plus-sign button. Click Ok when you are done. (You can always edit your filters later on.)
If you were to rename a folder contained in one of your filters, Thunderbird will automatically update the filter for you, to match the new folder name.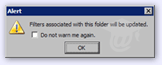 Run Your New Filter on Old Emails
Often, you will find yourself creating rule as a response to a flow of email. Fortunately, Thunderbird lets you run your filters on pre-existing emails: select your filter, and click the "Run Now" button.

Thunderbird will not give you a visual feedback or alert that the process has finished running (only a few seconds, usually) but looking at your email folders will show you if the filter achieved its goals. It did in our case, thanks Thunderbird.
If Thunderbird's new email ticker appears, but your inbox seems empty, check the folders where you told Thunderbird's filters to put some emails.
Create Filter from Message

Thunderbird lets you quickly define a filter based on an email's sender: right-click on the sender's email address in the email header, and choose Create filter from message. The Filter Rules dialog will popup, with a pre-populated rule like "From - is - [sender's email address]". This is useful when you want to create a filter based on the email's sender.