Mozilla Thunderbird's Display Options

To access Thunderbird's Options dialog and modify its settings, go to Tools > Options, click the desired topic and select the appropriate tab, as applicable.
Formatting
Typical emails are exchanged in one of two formats: HTML or Plain Text.
HTML formatting allows "rich content", i.e.: bold, italic, colored text, images, and even Flash animation content. Plain text is bare to the bone: plain text emails only contain the email message and email headers (metadata used by mail servers to convey emails from sender to recipients).
HTML stands for HyperText Markup Language, and is the formatting language used to create web pages.
Thunderbird lets you customize the way your plain text or HTML emails will look.
Plain Text Emails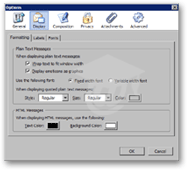 Thunderbird can force a carriage return (new line) when plain text messages' lines exceed the available with of the email window or reading pane: by default, the Wrap text to fit window width checkbox is checked.
By default, Thunderbird will display emoticons as graphics: when a sender includes a :) smile in his or her email, Thunderbird will render it as a yellow smiley face with a smile:

. If you prefer to see the punctuation equivalents of these symbols, uncheck that checkbox. This option applies to plain text emails.
Processing of punctuation symbols to smiley faces happens on your computer: enabling Thunderbird to display graphical representations of emoticons does not mean that it will insert graphic attachments in your email reply, for example.
Most email clients display plain text emails in a monospace ("Fixed-width") font. Thunderbird gives you the option to use a fixed-width or variable-width font for plain-text emails. (We go into more details about fonts in the next section of this tutorial, Display Options: Fonts.)
The section labeled When displaying quoted text messages lets you customize how original text will appear in Thunderbird when you reply to or forward an email. Quoted text refers to the original portion of text of the email. You can choose a different text style, size, and color.
HTML Emails
Thunderbird lets you customize the color of plain text messages you receive; by default, plain text emails have black text (foreground) and white background.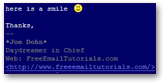 On the left, a plain text email shows a custom white text over a dark blue background; notice that the links in the signature are indicated under their text label. Also notice how the :) was displayed as an icon, in spite of the fact that the email was sent as plain text. The bold Joe Dohn text in the HTML signature we created earlier (Your Email Signature) was replaced by *Joe Dohn*, (asterisks for emphasis).
Since your emails are not actually changed by these setting, (only displayed differently), changing back to a more conservative black over white will affect all emails that appeared white over blue a minute ago. Again, nothing was ever changed in the emails' formatting information.
Emails Labels
On the Labels tab of Thunderbird's Display options, you can customize the color and names of your five labels. For more details about labels in Thunderbird, please refer to the second section of Using Folders and Labels, or using labels with the Search Bar.
Email Fonts
Because the Fonts tab of Thunderbird's options invites so much side information, it is covered on its own tutorial page: Display Options - Fonts