Create a Gmail account: sign up for a free Google Mail email address

Gmail sign up is completely free: anyone can get an "@gmail.com" or "@googlemail.com" email address (see the difference between Gmail and Google Mail). This free email tutorial explains how to create a Gmail account in just a few minutes. If you already have a Gmail account, and just want to sign up for another email address, you may need to first sign out (depending on your settings, you may automatically be logged in to Google).
Tip: to get a much more detailed step-by-step approach, check out our "Create Gmail Account" tutorial (new window). It also reflects design changes Google made to the sign-up form!
Create your Gmail email address
Follow these steps to sign up for Gmail and get your own email address:
First, go to the Gmail sign up page (opens a new window, so you can switch back and forth between it and this tutorial, as needed).
The reason the title of that page is "Create a Google Account - Gmail" is because once you create a Gmail account, it also becomes your "Google profile", which can be used with all other Google service, including preferences for search, YouTube, free services like Google Analytics, etc. In other words, a single sign in for everything Google!
The sign up form is straightforward, and on a single page:


In the first two text fields, enter your first and last names as you'd like them to appear when you email someone from your Gmail account.
Then, type the "user name" you want: this is the portion of your email address that comes before the "@gmail.com" - since Gmail has about 200 million subscribers, you may have to tweak your desired user name a bit (by adding a date of birth, or keyword, etc. - keeping in mind that your email address should be fairly easy to remember for those who know you).
Then, click on the "check availability" button to see if your choice is taken or not: if so, either try another email address, or pick one of Google's suggestions.
Choose and retype a password: the safest passwords are long, and combine upper- and lowercase letters, with numbers, as confirmed by the "password strength"-meter.


The "Stay signed in" checkbox should be checked only if you are using your own computer when signing up for your Gmail account. More details are covered in our Gmail sign in tutorial, to judiciously balance convenience and security.
You do not need to make Google your default homepage in order to sign up for your Gmail account (you can safely uncheck that option).
Password reset and recovery
The next few fields in the sign up form are very important, since the information you fill in will be used in case you forget your Gmail password - be sure to avoid typos, and type everything in lowercase letters (a good habit that will avoid troubles with capitalization).
Pick one of the security questions, or come up with your own (this is the safest choice); and carefully type and double-check your secret answer.
Then, if you have one, enter an alternate email address to which Google can send you your Gmail password reminder - double-check your typing.


Then, enter your date of birth (this field is not optional).
Finalize sign up and get your Gmail address!
Finally, type in the verification code, and review the Gmail terms of use. To complete the Gmail sign up process, activate and get your free email address you chose, click on the "I accept. Create my account" button at the very bottom.
If you entered all your account information correctly, without omitting any text fields, Google will display the successful Gmail sign up confirmation page: this means that you now have your own Gmail email address, and can start using it right away!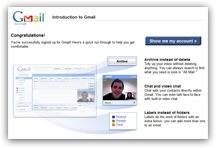 To access your new email address, click on the blue "Show me my account" button: you are automatically signed in to your new account, and your Gmail inbox will load, and include one or more emails from Google to help you get started with Gmail: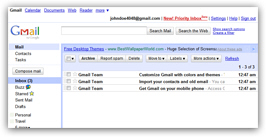 You have successfully signed up and created your Gmail account: you can now start getting familiar with the way Gmail works throughout the next tutorials (listed in the left).