Create a contact in your Gmail account (manually)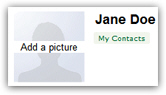 When you sign up for a new Gmail account and email address, your profile is "empty" of any contacts; a later tutorial will explain how to import contacts from another webmail service or an email program you have been using; in this tutorial, we will show you how to manually create a new contact in your Gmail account. It is not only easy, but also very quick to do, since Gmail lets you add as little information as you want or need for new contacts, with the option to go back and edit their information later on (like adding a phone number, a second email address, a profile picture for that person, etc.)
Tip: this Gmail tutorial explains how to add a new contact "from scratch", by entering their info in your contacts list. The next tutorial shows how to add an email sender as contact, which will save you some typing if you have an email message from that person in your inbox.
Create a new contact in Gmail (by hand)
Follow these steps to manually add a contact:
If needed, first login to your Gmail account.
Once you have signed in, you will see a series of links / buttons listed in the left pane: click on the "Contacts" link, right below Mail:


Gmail will load your contact screen which, for a new account, will be empty. Click on the "Add to 'My Contacts' ↓" dropdown menu, and start typing the name or email address (for example) of your new contact:


Once you have finished typing a piece of information for the new contact, hit Enter (Windows / Linux) or Return (Mac). As soon as you do, Gmail will add the new contact to the list, and display a confirmation message that everything went smoothly:


And the contacts you create are then visible in the listing below the menu. Just click on a new contact to get to their profile, a screen from which you can manually add more information. You can do this right now, or at a later time: you will access your Gmail contact list by clicking on Contacts in the left pane, as you did earlier.
And this how simply you can manually create new contacts in your Gmail account! Much of the basics we skipped for brevity are self-explanatory (for example, if you added a contact with a typo, or by mistake, you can click on the Undo link shown on the screenshot, and Gmail will remove that contact - or you can access the new contact's profile and edit the typos).