Send an email message to several people at the same time (multiple recipients at once)
The most common way to send an email is to either reply to a message you have received (which will automatically address it to the sender), compose a new message and type the email address of a single recipient, or forward emails to someone. But there are two ways in which you can send an email message to several people at the same time - in other words, include multiple recipients at once inside the same email, which spares you from having to send one individual email for each recipient! Both methods are supported by any modern email program like Windows Live Mail or Mac Mail, and all major webmail clients like Hotmail, Gmail, and Yahoo Mail. So no matter how you send your emails, it will work.



Reply to everyone at the same time
As mentioned above, there are two ways to send emails to multiple recipients: the easiest is when you receive an email message that was addressed to you and other recipients: you can tell that it was the case when you see multiple email addresses inside the To field or Cc field (Carbon Copy) - of course, you can never see the "Bcc", hidden email recipients:



If you want to respond to an email message that was sent to several people besides yourself, just click on the Reply to All button (sometimes simply labeled "Reply All"), and your email program or webmail client will open a new email editor, prefilled with all recipients' email addresses -except for yours, which you can add manually- and the original subject with a "RE:" prefix (to indicate a reply). In this and all other respects, the Reply-to-All command works just like a standard "Reply" button.
Send an email to multiple people at the same time
The other way to send a single email to several people is to compose it from scratch, or to manually add multiple recipients to the To, Cc, or Bcc fields of the message:



Email Tip: Read about the difference between Cc and Bcc.
How to separate multiple email addresses in the To, Cc, or Bcc fields
So, whether you are composing a new email message, replying to one, or forwarding it, all you need to do is type one email address after the other; you can separate each email address with either a comma (",") or a semi colon (";") - the semi colon is more universally accepted, so you should stick to it. Here's a multi-recipient email message in Thunderbird:


In some email programs or webmail clients like Hotmail.com, you can also press the Tab key after having finished typing an email address, and it will be automatically converted to a "block", as shown on the screenshot above.
What happens to an email sent to several recipients?
As soon as you click on the Send button, an identical copy of your email message will be sent to each of the recipients you included; depending on your email account settings, a copy of that same message will also be placed inside the special "Sent" email folder, which allows you not only to confirm whether or not you have sent a particular email, but will also allow you to know to which email addresses the message was sent.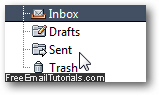 ...And this is all it takes to send an email to several people at the same time, or reply to multiple recipients at once. As you can now tell, both approaches work pretty much like sending an email to a single person (married or not!), or replying to an individual sender.