Hide or show the menu bar (classic menus) in Opera
Google Chrome introduced the "menu-less" web browser interface, which saves a bit of screen real estate by displaying the classic menus only when needed; other web browsers followed suit, starting with Apple's Safari, and then adopted in Opera and the upcoming Internet Explorer 9. While this feature is useful, especially on netbooks and other computers running with a low screen resolution, it can also be confusing for some users, and a source of frustration for users who prefer to use keyboard shortcuts instead of the mouse. In this tutorial, we will show you how to restore and show the classic menus in Opera.



Restore and show the classic menus in Opera
Nearly all menu commands are available under the collapsed, hidden version of the menus; to go back to showing all menus as used to be the case, click on the "master menu", as shown on the screenshot below, and choose "Show Menu Bar":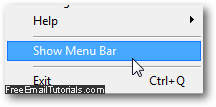 As soon as you do, Opera will restore the classic menus at the top of the screen, right below the title bar and above the tab bar, and will now look like this screenshot: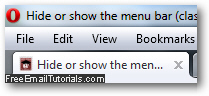 Go back to hiding the classic menus in Opera
If you decide later on to switch back to the hidden classic menus, just click on the "File" menu, and choose "Show Menu Bar": it will uncheck it, and hide the menu bar.