Outlook 2003 System Requirements
Outlook 2003's "System Requirements" indicates the (official) minimum system configuration criteria under which you can (or can feasibly) run Microsoft Outlook 2003.
Unlike some older versions of Office, Microsoft Office 2003 is not fully "backward compatible". In other words, it will not run at all on some older version of Windows.
Software Requirements for Outlook 2003

Microsoft Outlook 2003 will run on Windows 2000 SP3 (i.e. with Service Pack 3 installed), Windows XP, and subsequent Microsoft operating systems (like flavors Windows 2003).

If you are unsure about the version of Microsoft Windows you have on your computer, please see our Which Version of Windows Am I Running? tutorial.
Microsoft recommends that your PC meet at least the following hardware requirements for Processor, RAM, Disk Space, and Monitor + Resolution.
Processor (CPU) System Requirements for Outlook 2003

The recommended processor (CPU) system requirements for Outlook 2003 are "Intel Pentium 233-megahertz (MHz) or higher processor, Pentium III recommended". Intel is mentioned for commercial reasons, but any "x86" architecture processor (like some AMD chips) will work just fine.
If you are running Windows 2000 or Windows XP, you CPU will work with Outlook 2003. As far as performance is concerned, a "Pentium III"-type processor is recommended; in measurable standards, this means a processor whose clock speed is at least 700 Mhz.
Simply put: since the processor does much of the processing work in your PC, the faster your processor, the more responsive Outlook 2003 will seem.
Memory (RAM) System Requirements for Outlook 2003

RAM (Memory): 128 Megabytes or more — 128 Mb of RAM is the suggested minimum to run Outlook 2003. The real minimum of RAM needed to smoothly operate Outlook depends more on your operating system. For example, Windows 2000 runs best on at least 256 Mb of RAM (twice the suggested minimum), and Windows XP runs best with at least 512 Mb of RAM.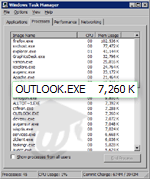 Within limits, the more memory (RAM) you have, the better: anytime your PC runs out of RAM, it will not crash, but instead will use your hard drive as RAM.

Running out of memory will have a noticeable impact on performance, whose magnitude will depend on how well you maintain your computer. (Why defragment your hard drive)

It is also important to note that, in spite of its rich functionality, Microsoft Outlook 2003's has an extremely low footprint (or cost) on memory (RAM).
Outlook 2003's actual memory cost to your machine depends on your system configuration, as well as how you are using Outlook at any given point. But, all things considered, Outlook 2003 is not a memory-hungry application.
Disk Space (Hard Drive) System Requirements for Outlook 2003

Disk Space: 150 Megabytes or 350 Megabytes — 150 Mb of free disk space are required for Outlook 2003 alone. However, Microsoft recommends with good reasons that installation files be left on your computer after installation. These 200 extra megabytes of data are very useful for two main reasons.
First, the Outlook 2003 200 Mb installation files will be used to validate the authenticity of your Office validation whenever you run Microsoft's free Office Updates service, and spare you from having to insert your Outlook 2003/Office 2003 CD for verification purposes.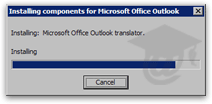 Second, these installation files contain other Outlook 2003 features not installed by default, but which you may need later on. By leaving a copy of your Outlook/Office installation files on your computer, Outlook 2003 will use these files whenever you are trying to use a "non-installed" feature. There too, no need to insert your Outlook/Office CD to update or install new features.
Display (Monitor) System Requirements for Outlook 2003
Microsoft recommends a "Super VGA (800 × 600) or a higher-resolution monitor" for Outlook 2003 and the rest of the Office suite.

Since "Super VGA" is not an actual standard, here is a practical translation. Outlook 2003 (and other Office 2003 applications) use "high color" icons (i.e. icons which use more than 256 colors). Using a monitor or graphics card which does not support "high color" will result in a messy display of dithered colors.

Notice that Microsoft also recommends a screen resolution of 800x600 pixels at least. (How do I check or change my screen resolution?) This is more a "convenience" requirement than a strict system requirement for Outlook. Using Outlook 2003 at a screen resolution below 800x600 will "cram" the interface elements with one another.
Again, if you are running Windows 2000 or Windows XP, your monitor's profile most probably matches Outlook 2003's display system requirements.
"Other" System Requirements for Outlook 2003
Microsoft Outlook 2003 comes "out of the box" equipped with functionality who depends on your usage and environment.

For example, like other Office 2003 applications, Outlook ships with built-in speech recognition, digital ink support, and Microsoft's Information Rights Management support. These additional features obviously require other hardware and software, such as voice input and sound output hardware for voice recognition.
Official Outlook 2003 System Requirements

Upgrading To Outlook 2003 From a Previous Version of Outlook

Installing Outlook 2003 on your PC will let you import most or all of your settings from previous versions of Outlook (and some other email clients), but purchasing Outlook 2003 will not entitle you to a reduced price: there is no discounted "Outlook 2003 Upgrade" edition, as Microsoft often did in the past.