General Email Account Settings in Outlook 2003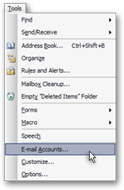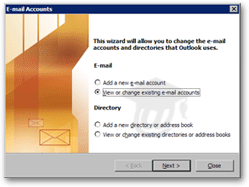 To customize your email accounts in Outlook 2003, go to Tools > E-mail Accounts.

The E-mail Accounts dialog will open, giving you the option to Add a new e-mail account, View or change existing e-mail accounts (selected by default) - leave the selection and hit [Enter] (or click Next).

Another way to customize your email accounts in Outlook 2003 is from Outlook's Options dialog.

Go to Tools > Options, select the Mail Setup tab from the Options dialog, and click the E-mail Accounts button.
Email Accounts in Outlook 2003
You will now see a listing of all email accounts setup in Outlook 2003.

Notice the side buttons: Add allows you to add a new email account in Outlook 2003; Remove will permanently delete the selected email account; Set as Default makes the selected email account the default for sending emails. Move Up and Move Down determine the physical order in which Outlook will check for emails on the mail server(s).

Select the email account you would like to edit and click the Change button.
Email Accounts' PST Delivery File

At the bottom of the E-mail Accounts screen, notice the Deliver new e-mail to the following location drop-down menu.
By default, the drop-down menu should contain you Personal Folders PST file as well as your archive PST file (if you have already archived or let Outlook 2003 AutoArchive at least once).

The New Outlook Data File button allows you to create new PST files. Creation/management of PST files will be covered in a later tutorial.
Email Account Summary Screen in Outlook 2003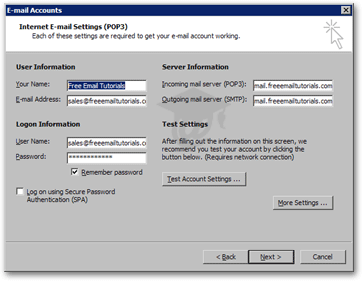 In the Internet E-mail Settings screen, Outlook 2003 summarizes the basic connection information for the email account you selected, such as user name, password, and mail server information.

All this information comes straight from the initial email account setup process we went through earlier.

The Test Account Settings button performs the same function covered in the email setup tutorial, and sends yourself a test email.

To access more than these basic email account properties, click the More Settings button.
General Email Account Settings
Outlook 2003's General settings let you change basic information about your email account.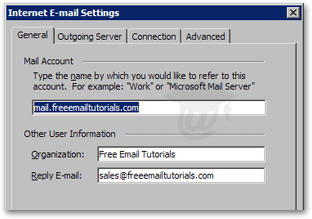 The email account Name field is by default set to your mail servers, typically something like mail.yourDomain.com. This name is only used by Outlook 2003 to reference internally your email account, so you can use any meaningful nickname in this field (like "Earthlink email account").

Under Other User Information, you can type an organization name if you want. The Organization field is used "under the hood" for email headers, and any application (email client or other) who uses such email header information.
The Reply E-mail field allows you set the email address to which replies to your emails will go. By default, replies go to the originating email address. But with the reply-to field, you can set replies to go to a completely different email address.

Since the reply-to information is used only for routing, it does not affect the login information for your email account, which is used to retrieve emails from the server.