Using low/high importance priority setting in email messages - Email Etiquette

Popular email programs like Outlook Express, Microsoft Outlook, or Windows Live Mail, and webmail providers like Hotmail, Yahoo Mail or Gmail, all allow you to set the "importance" or "priority" of email messages you send (how the feature is called depends on the email program or provider, but they are one and the same). The side screenshot shows you three emails in Hotmail, each with a different importance: Low Importance, No Importance set (default), and High Importance. In some cases, you may find up to 5 different "importance levels" at your disposal. But since three is the norm, only these three settings are guaranteed to be shown to all; the screenshot below shows the 5 "Priority" options available in the message Options menu for Mozilla Thunderbird: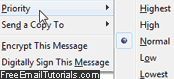 Should you add low/high importance on emails (priority flag)?
Before delving into the email etiquette implications of using importance flags for your emails, let's answer the question by backtracking: it is assumed that, at least in a business environment, you will only take up other people's time by sending appropriately important messages. As this already implies, you should not send any email with an importance level or "Low". Instead, if the matter isn't urgent, consider mentioning it in person to the concerned parties during a break, or when you next cross each other in the hallways or parking lot.
When manually setting the importance or priority setting of an email message to High, here is a consideration, followed by a rule of thumb:
Your contractors and co-workers are likely too stressed as it is, so let's spare them at all cost from an exaggeratedly urgent message. If the problem or suggestion is important and/or time-sensitive enough, try calling the other person or walking to their office or cubical. In some cases though, phone calls and live conversations are not an option, so use the following email etiquette rule:
If you send more than four emails marked as important per month to a particular recipient, email etiquette suggests that you should drop altogether the importance / priority status from your email altogether (at least to the person who is likely to receive more than one "important" email message from you per week).
The flip side of the coin is a preliminary agreement with your email recipients: if you have come up with a convention that Low importance emails should not be checked until 4pm, for example, stick to that agreement. Because most email programs support "email rules" (aka "mail filters"), setting the importance level may allow others to automatically filter out high importance or low importance emails accordingly.
Summary: since you should not send low importance messages, we're left with high importance emails. This setting needs to be used sparingly to retain its "unusually important" perception - no more than one of these per recipient, per week.