Quotes, punctuation, exclamation points, question marks - Email Etiquette
This tutorial doesn't concern itself about the English rules and proper usage of punctuation marks or quotations, and focuses instead on a few, special cases that are particularly relevant to email etiquette; for more generic info, grab a copy of an "online copywriting" book or manual. Movies, then television, accelerated the spread of trends throughout pop culture, but both speed of propagation and breadth were buffered by the mainstream media's intelligentsia; this is no longer the case with the web, whose uncensored exchanges give birth to overnight "internet memes" and new acronyms at a breakneck pace.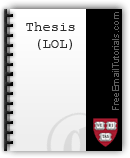 The purpose of email should ultimately be effective communication; by definition, with this new medium, rules are made to be broken, and in three months, using "WUIH" may become a standard Monday morning greeting between colleagues to say "What's up, I hope you had a nice weekend." The point is to adapt to established trends, while avoiding emerging fads, always keeping context and appropriateness in mind: interjecting LOL's throughout your PhD dissertation may not become acceptable for a few more decades (see Capitalization and Acronyms).
Basic punctuation and email etiquette
Here's a bare-minimum punctuation primer, not specifically applicable to email messages:
Always use a period to finish each sentence (and capitalize the next letter).
Use a comma to separate two pieces of sentence or two add details, when needed, as we just did - more information on commas (beyond the scope of this tutorial).
Use a colon after a complete sentence, before adding more information or an list of items: comma separated, like this, or in bullets as we did in the last paragraph.
The ellipsis (always three dots) serves to imply an omission (same as using "etc."), to add an artificial and dramatic pause effect... in the middle of your sentence (like a drum roll), or to close on an open loop to make readers think...
Somewhat unrelated: breaking up your text into paragraphs allows the visual pattern formed by letters to "breathe", which is more inviting to the eye and increases the likelihood that your email will be read in full. An paragraph over five lines long starts to look a bit dense; reading on screen is more straining than printed copy, so both in emails and on the web, short and concise tidbits of information win.
The purpose of this superficial summary is to remind all of us that punctuation makes sentences easier to read, and allows your text to flow more smoothly in the reader's mind (reading consists in "subvocalizing" words and expressions, and appropriately sprinkling punctuation marks adds music and rhythm to your words!) Think of a counter-example as best proof: have you ever received an single-paragraph email typed entirely with a single casing (lowercase or uppercase), without a single punctuation mark?
Exclamation Points (or "Exclamation Marks")
Part of the problem with email, and any other real time and interactive written medium like cell-to-cell text messages, is that the tone can be ambiguous (see why we think that it is often not only appropriate, but desirable, to use emoticons / smileys in your professional emails). The exclamation point brings in a lot of help, as you'll see.
When used appropriately, an exclamation point will bring joyful enthusiasm to a statement that might otherwise be perceived as passive resignation; contrast these two sentences, and think about which of these two people you'd rather work with:

• " We'll take care of it. "

• " We'll take care of it! "
Exclamation points can also do the exact opposite, and dramatically change the underlying mood of a statement; here's a simple example:

• Sentence 1: " Stop doing that. "

• Sentence 2: " Stop doing that! "

• Sentence 2: " Stop doing that!!! "

Using an exclamation point is a useful way to tone down an imperative (the tense of the verb used when giving orders). The camaraderie of the second and third sentences makes for a much nicer (but less convincing) way of asking someone to change their behavior pattern.

Leave the absence of exclamation mark as an escalation step, to subtly express your growing discontent! Although adding a new word will help soften the blow: "Please stop doing that." (Adding a comma after "Please" could have implied exasperation, strategically a bad nuance to add in a case like this.)
And now onto a common question: what about multiple exclamation points? Unless you are emailing back and forth with a friend, or joking, we recommend sticking to a single exclamation mark. (Over)using several exclamations may well give the wrong impression about you, and make you appear childish and not very serious. This can work to your advantage in some situations, just be aware of the negative potential.
Question Marks
The rules for question marks use are quite straightforward: always use a question mark when you ask a direct question, like "Should I take care of this?" An indirect question does not require a question mark: "I wonder if I should take care of this."
Tip: always avoid using multiple question marks, since they can easily be misconstrued as exasperated impatience, if not downright obnoxiousness. Got it???

Bada-boom :) Noticed your reaction?
Quotation Marks ("Single Quotes" or "Double Quotes")
Use quotation marks, or quotes, only in two very clear contexts:
Use quotation marks to quote "verbatim" someone else's oral or written statement (using that person's exact words, without any modification on your part). If you do want to add your own words into a quoted statement, use square brackets "[ ] " to distinguish them from the author's words - some people, and this varies by country as well, suggest using parentheses "( ) " to distinguish words or expression foreign to a direct quote). Note that indirectly reported speech doesn't require quotes:

• He said, "I'll do it".

• He said that he would do it.
The characters you use to delimit quotations vary by language and country, from 'single quotes' and "double quotes" to «guillemets (angle quotes)». In American English, use double quotes first, single quotes second.
Single quotes or double quotes? To quote within a quote, use double quotes to surround single quotes (the reverse is also considered acceptable).

• I asked Joe and he said that "the boss told him 'no' right away."
Another, less common way of using quotation marks is to call into question a word/expression, or its implied meaning:

• Yes, Joe offered his "help".

If quotes were in fact properly used in the sentence above, the implication is that Joe was in fact less than helpful - though it doesn't say it in so many words, this sentence, with the quotes, really reads "As usual, Joe is a slacker". Careful not to accidentally trash someone's reputation by misusing quotation marks!
Side info: There is an entire blog devoted to rather amusing examples of quotation marks misuse.
Tip: the American English keyboard doesn't have a dedicated key for true apostrophe, so single quote is the same key as the one you use for contractions or genitives, as in "It's Joe's toolbox". To avoid confusing, use double quotes to surround a quote that includes one or more apostrophes!