Configuring AutoArchive Settings in Outlook 2003
In this tutorial you will learn how to configure Outlook 2003's AutoArchive settings: from AutoArchive frequency, to archived items' age and automated deletion. These settings affect AutoArchive across email folders and special folders: different configurations can be set on a folder level - this type of folder-level customization will not be covered here.

But as we will see, the AutoArchive settings dialog in Outlook 2003 also enable you to enforce AutoArchiving rules "across the board", and override such custom folder settings you might have in place.
Configuring AutoArchive Settings in Outlook 2003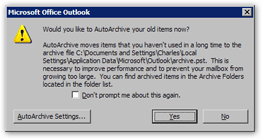 Any time Outlook 2003 prompts you to AutoArchive your old items, you have the option to configure AutoArchive by clicking AutoArchive Settings.

Any changes you make in Outlook 2003's AutoArchive settings will be reflected in the AutoArchiving process about to happen. Note that these settings are independent, but available when you archive manually.
Outlook 2003 will launch the AutoArchive dialog, and temporarily suspend impending AutoArchiving until you confirm or cancel changes in settings.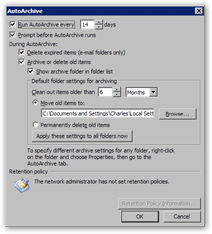 The first option determines how often Outlook 2003 should run the AutoArchive process; the default is 14 days. Feel free to adjust the Run AutoArchive every frequency.





Checked by default, the Prompt before AutoArchive runs checkbox guarantees that Outlook 2003 will display the AutoArchive prompt to get your confirmation before automatically archiving your old items.
AutoArchived Items Handling by Outlook 2003
The next options determine how Outlook 2003 will handle automatically archived items: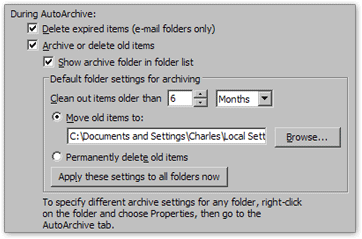 The default settings are shown above: although the options wording is confusing, old items will not be deleted. Automated deletion of old items (or not) is controlled by the radio button under Default folder settings for archiving: the default is to move old items to your archive.pst PST archive file. Automatic deletion of old items is available, but is surely not a recommended choice for most Outlook users.
The Apply these settings to all folders now button lets you override any custom folder settings with the ones you have configured for AutoArchive.